Argentines Shun Offer to Buy Dollars With Strings Attached
Raymond Colitt and Camila Russo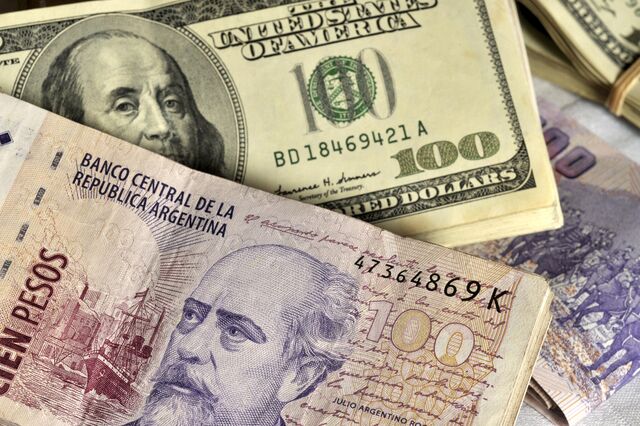 Few Argentine savers are taking advantage of the opportunity to buy dollars from the government for the first time in 18 months following the peso devaluation and easing of currency restrictions in the past week.
"I'm not interested. Between the red tape and the taxes I'm better off buying it in the street," said Alfonso Iturriaga, a 63-year-old businessman. "It seems more like a measure to reassure people."
With near 30 percent inflation eroding purchasing power, many Argentines are unable or unwilling to swap their pesos for greenbacks from central bank reserves that tumbled 32 percent to a seven-year low over the past 12 months. The lack of appetite reflects distrust in government policies by buyers, said Juan Curutchet, vice president of Banco de la Ciudad de Buenos Aires. Many remember when bank accounts were frozen in the wake of the nation's $95 billion default in 2001.
President Cristina Fernandez de Kirchner on Jan. 27 eased restrictions on dollar purchases following last week's 15 percent devaluation. Since then, banks sold $12.8 million to savers, according to the national tax agency known as Afip. That compares with $188 million the central bank sold on the official currency market yesterday.
Argentines must earn at least 7,200 pesos ($899) a month to be able to buy as much as $2,000 dollars at the official rate, which weakened 0.2 percent to 8.0222 pesos per dollar at 1 p.m. in Buenos Aires. About 80 percent of the country's 14.8 million workers earned less than 7,000 pesos in the third quarter of last year, according to the national statistics agency's website. Those who qualify must obtain authorization from Afip.
'So Expensive'
Argentines have an estimated $160 billion of undeclared assets stashed in mattresses or deposited abroad.
Some, like Iturriaga, fear increased government meddling, while others have nothing to invest after struggling to make ends meet on what they earn.
"I'd love to save in either pesos or dollars, the problem is I have nothing left at the end of the month," said Raul Francesci, a 43-year-old shop attendant. "Things are so expensive I'd like to know how some people are able to save.'
Prior to these measures, Argentines were only allowed to buy a limited amount of currency for travel abroad and in some exceptional circumstances.
Along a 200-yard stretch on Florida, a popular shopping strip in downtown Buenos Aires, two dozen informal currency traders hustled passersby shouting ''cambio: dollar, euro, real."
Black Market
Demand for dollars on the black market rose after the rate fell from a record 13.05 last week to 12.7, said John Garcia, who works in the doorway of a bookstore as an informal currency trader with a hip-pouch bulging with cash.
At night the 22-year-old works as a chef's assistant.
"People expect the peso to slump again so they're back to buying dollars," said Garcia as he toyed with a calculator.
The traders are locally known as arbolitos, Spanish for little trees, because they line the streets and sidewalks of the city center.
Cesar Espinoza, a 30-year-old chauffeur, who swaps currencies in the shade of a newspaper stand on Florida in his free time says only tourists are selling dollars. "Argentines won't dream of getting rid of them -- they don't trust the government."
Curutchet said he doesn't expect high demand for government-supplied dollars targeted at savers.
"It would surprise me to see a flood of requests to buy dollars," Curutchet said in a telephone interview from Buenos Aires.
Options, Reserves
Dollar purchases will be slapped with a 20 percent tax, taking the effective rate to 9.62 pesos per dollar, unless they deposit them in a bank account for at least one year.
Miriam Espotron, a customer service manager at a Banco de Galicia y Buenos Aires SA branch said yesterday several customers had inquired about the dollar purchase program but no transactions were completed.
"People are evaluating -- not everybody has cash available in their account to buy dollars," Espotron said.
If the latest measures fail to shore up confidence in the peso, Argentina's international reserves could extend their decline, Santiago Cuneo, an economist at SW Asset Management, said in a telephone interview from Buenos Aires.
"They'll have to devalue the peso even more and that means higher prices," Cuneo said.
Before it's here, it's on the Bloomberg Terminal.
LEARN MORE