Toronto Can't Shake the Shadow of Rob Ford
By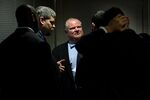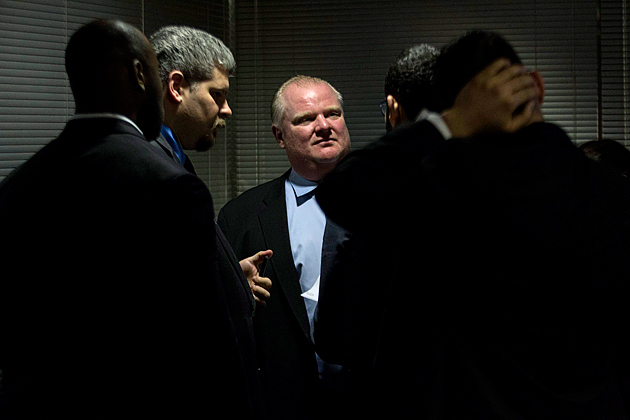 Hey, remember that Toronto mayor who admitted to driving drunk and smoking crack cocaine "in a drunken stupor" last year? The one who made homophobic and racist remarks and bragged on TV about oral sex with his wife? Rob Ford may have a lot less municipal power and even global celebrity these days, as attention shifts elsewhere, but the mayor of Canada's largest city continues to grab the spotlight in his hometown.
Over the past week he pulled on a Denver Broncos jersey when accusing the City Council of loading the new budget with $50 million worth of gravy, found himself stuck in an elevator for 45 minutes before speaking at the Economic Club of Canada (which refunded attendees' $89-a-plate fee), and was caught in a new video rambling in a Jamaican accent.
The latest embarrassment was at a Monday-night dinner for the Toronto Region Board of Trade, where Ford showed up unexpectedly and was hastily seated at a back table. Organizers said he wasn't invited; Ford posted a photo on Twitter showing a Nov. 11 invitation letter from Board President Carol Wilding, whom he thanked for the "personal invitation." Although dated 10 days after Wilding had publicly urged Ford to take a leave of absence, a spokesman in her office said the invitation was rescinded in a subsequent phone call. In any case, Ford stormed out of the dinner after Wilding told the 1,500 attendees that the region's advancement "took a step backward" because of leadership questions and "negative international attention."
That drama is just the latest headache for a city that can't seem to shake its scandal-plagued leader. Even Ontario Premier Kathleen Wynne recently complained that Ford's drunken outbursts are making it harder for her to promote Toronto as a place to invest. Ford now has limited power in city government, but he still holds the title of mayor and intends to run for reelection in October. That could mean months of distracting antics at a time with Toronto is facing a 10.1 percent unemployment rate (PDF) and critical decisions on infrastructure.
Of the two dozen candidates who've so far registered to run for mayor this fall, the one who's drawing business support is David Soknacki. While Ford was stuck in an elevator at the Economic Club last week, the former city councilor was over at the Board of Trade talking to a lunchtime crowd about the need for light rail transit and improved transparency.
"I've been told I'm the most boring candidate on earth," says Soknacki, who's already getting a boost in the local media. Compared with an opponent whom the National Post has dubbed the addict-in-chief, he may be right. But Soknacki says he's betting that voters will ultimately care more about effectiveness than entertainment value when choosing Toronto's next leader.
After all, Soknacki points out, Ford was elected as a celebrity. "His platform was to stop the gravy train. That slogan and the crispness of his message resonated." The problem, Soknacki says, is that Ford didn't deliver: "When you couple reducing expenses with a guarantee of no service cuts, you have to look at the results."
As long as Ford's spotlight-grabbing instincts remain strong, though, character will likely trump transit taxes as an issue in the October race. On Jan. 28, the mayor got a fresh burst of publicity at a Super Bowl press conference where Broncos offensive tackle Orlando Franklin said he was "happy" to see Ford wearing his jersey. "After all, I'm from Toronto," Franklin said. When pressed on whether Ford was crazier than fellow countryman Justin Bieber, Franklin chose the pop singer who's facing drunken driving charges, prompting another round of headlines. Ford's crack smoking even made it onto the game show Jeopardy! last week, with the answer "What is Toronto?"
That's not the kind of name recognition that brings investors and new jobs to town. While business leaders and politicians such as Soknacki try to shift the debate to more serious matters, though, the lure of watching a train wreck is hard to deny. "This is what passes as entertainment right now," says Soknacki, who served with Ford on the Toronto City Council. "Just as one human being to another, I hope he recognizes he has a problem and gets help."
Before it's here, it's on the Bloomberg Terminal.
LEARN MORE