Skip Steakhouses to Eat Well as NYC and Jersey Host Super Bowl
undefined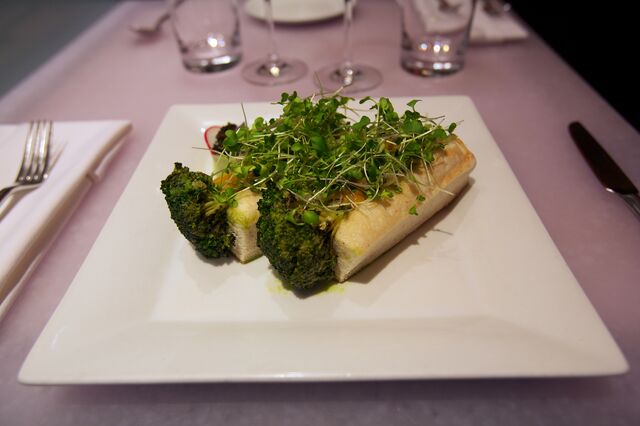 Almost half a million people will descend upon New York and New Jersey for this Sunday's Super Bowl. And almost all of them will eat terribly in a metropolitan area that offers some of the world's best food. Sorry.
I've seen double-decker buses unload near street carts so the passengers could gorge on freezer-burnt knishes.
I've seen tourists lured into curry-filled slop houses lit by Christmas tree lights. And worst of all I once took Russian exchange students to Sbarro in Times Square for heat-lamp pizza. I was 17 years old. I'm really sorry.
So let's start from square one, and hopefully you'll trust me now that I'm no longer dining at Sbarros.
The first rule for choosing restaurants as an out-of-towner is to pick places you won't typically find outside of New York, though we'll make exceptions for things like barbecue, since you're probably still in shock that we can do 'cue as well as they do down South. Yeah, I just went there.
Unfortunately, this also means you need to cancel your steakhouse reservations, because most of ours are as average as yours. Same over-boiled shrimp cocktails. Same greasy rib-eyes. Same indigestion afterwards.
Sure, a few of our chophouses are pretty great, but in order to avoid any confusion, you're going to have to call up and cancel. Tell them Ryan Sutton told you to.
Food Quest
You'll encounter our best steaks not at steakhouses, but rather at tasting menu spots like Daniel or Blanca, or at meat-centric brasseries like Minetta Tavern or The Dutch.
Think of it this way: There are so many great and exciting restaurants in New York, and each time you dine at Wolfgang's, Del Frisco's, Arlington Club, or other substandard meateries, you're short-selling better, more exciting places.
The second rule for out-of-towners is that most of the good eats won't be near your hotel, so you'll have to do a bit of cross-town travel. Deal with it. If you're spending $10,000 on tickets to the big game, you can splurge $15 on a cab ride to the East Village or $2.50 on a subway trip to Williamsburg. So here's where to dine out.
Burgers and Pub Grub: The Breslin. This is where April Bloomfield, a Brit who's become one of our country's finest chefs, serves what could be New York's best burger -- it's made with lamb. Expect nose-to-tail awesomeness, from stinky beef-stilton pies, to seafood sausages, to swine trotters, to blood sausages. This is where you grab a beer late at night and wolf down Scotch eggs to stave off a hangover. Sure, it's a pub, but it's also one of America's best restaurants.
Cool American Food: Thirty Acres. This Jersey City joint is the type of destination neighborhood spot that I wish upon every street corner in the U.S. It's a study in small plates packed with big flavors: Lamb sweetbreads, spicy tripe, chicken liver agnolotti. Most dishes are under $20. Given the New York Giants and Jets' Super Bowl-hosting home field is actually across the Hudson River, why not celebrate in a Garden State restaurant too?
Hot Dogs: DBGB or Dirt Candy. Daniel Boulud was raised near Lyon, the gastronomic capital of France, and with DBGB he's given us the sausage capital of New York. Order the Tunisienne, a heady lamb dog served on a bun with cooling yogurt. Or hit up Dirt Candy, where Amanda Cohen gives us smoked broccoli dogs that somehow manage to taste like real frankfurters. Well, sort of. Let's get Cohen a vending contract at one of the local stadiums, whose offerings pale beside her brocco-dogs.
High-End Junk Food: Alder. Jon Bignelli and Wylie Dufresne have given us due cause to pay $13 for pigs-in-a-blanket, something we're used to devouring for free at our aunt's house on Thanksgiving. The chefs wrap sweet knobs of Chinese sausage in compressed hot dog buns, then add a wallop of hot mustard to drop kick our sinuses. Alder also serves the best jalapeno poppers on earth, topped with oily trout roe and filled with heady uni cream cheese. The only this missing here is a flat-screen TV showing sports (hint, hint).
Pizza: Roberta's or Best Pizza. Neapolitan snobs might turn their nose up at "orange oil" New York slices, but Best Pizza in Williamsburg is one of the few haunts to get it right, using top-notch tomatoes, fresh mozz and wood-fired dough. Even better are the coyly named pies at Roberta's in Bushwick. Try the Axl Rosenberg -- a masterful blend of sopressata, jalapenos and mushrooms. The key to Roberta's pizza is that it lacks the typically soupy center some of us love (or like me, hate) in more traditional Neapolitan pies.
Barbecue: Briskettown or Mighty Quinn's. Go to the former for a sticky, Brontosaurus-sized beef rib. Go to the latter for brisket that pulls apart like an edible accordion. Then head back home and tell your local pitmaster to start taking credit cards too, because this is the 21st century, son.
More Cool American Food: Momofuku Noodle Bar. David Chang started his global food empire here, and I'd argue it's still the most exciting of his U.S. venues. The Korean and Southern fried chicken ($100, feeds 4-8, must reserve in advance) is among the city's finest variants of the dish, and the spicy miso ramen noodle soup, a study in umami richness, is a go-to for warming up your insides while battling the cold.
Affordable Italian-American: Frankies 457 or Parm. Hopefully, you already know enough to avoid the checkered-tablecloth traps of Little Italy, where you can enjoy red sauce fare that wouldn't pass muster in your high-school cafeteria. Instead, check out Frankies on Brooklyn's Court Street, where pork braciole falls apart into a gorgeous "Sunday gravy." Or swing by Parm for the city's best meatball sandwich. The ball is flattened, so it eats like a burger, but it costs much less than one (at least in New York) -- it's just $9.
Spanish: La Vara. Alex Raij sells paprika-stewed bacon sandwiches for $8. That's why you need to eat here. The food is a hat tip to Spain's Sephardic and Moorish traditions and the $15 Iberico meat plate is a fine antidote to $40 versions elsewhere around town.
Mexican: Empellon Cocina or Mission Cantina. Now this is football food. At Empellon, Alex Stupak uses home-made flour tortillas for his tacos; they dissolve in the mouth and let the fillings (pastrami, pork belly, Brussels sprouts) shine through with little adulteration. At Mission, Danny Bowien uses Anson Mills corn to give us some of the city's best non-flour tortillas; they pack a brilliantly sweet robustness that keep in check strongly flavored meats like lamb and brisket.
Unfancy French: Bar Boulud. This is where you can sample some of America's finest charcuterie, compliments of Daniel Boulud and Gilles Verot. Sit at the bar, order the pate grand pere (foie gras, truffle juice, port), have the sommelier pour you a Burgundy, and watch the crowds leave Lincoln Center. There's your New York evening.
Cocktails: Bemelmans or Clover Club. There are few more quintessentially New York experiences than drinking a Vesper martini at Bemelmans while canoodling in a dark corner and listening to live jazz. Expect to pay $100 or more for that privilege. For something cheaper, the Clover Club in South Brooklyn has live jazz every Wednesday, and the drinks, compliments of cocktail maven Julie Reiner, are among the city's best. Ask for Katie Stipe's "Street & Smith" tipple, a smooth blend of Mezcal, tequila, sweet vermouth, grapefruit-infused Campari and Maraschino.
Thai Food: Pok Pok Ny. Why here? Because the tart, fishy, funky papaya salad will make your hair follicles sweat. Because the gin and tonic will make you rethink gin and tonics (it's spiked with kaffir lime). Because this is a carnivore's candy land, where salads are made out of pork innards. Right on.
Ex-Soviet Food: Spa 88. You descend below Fulton Street to the underground baths. You sweat it out in the Russian banya. You shock your system in the cold dip pool. And you hydrate with kharcho -- spicy Georgian lamb soup. Admission is $40 and you walk out feeling like you have a new set of skin on your body.
Sichuan: Cafe China. Three Chinese restaurants have Michelin stars in New York. This is one of them. It's where you go to sate your craving for ma la, that sense of numbing spiciness that's the closest thing to sprinkling Novocain over your food. Do the mapo tofu and Chungking chicken.
Pastrami: Katz's or Second Avenue Deli. End of discussion.
Steakhouses: Alright, since you read this far down you can keep your reservations at Keens, which boasts one of the city's most impressive Scotch collections, and dry-aged meat so heady it could be bottled as cologne at Bloomingdale's. But easy does it with the steak; there's a lot more New York has to offer.
(Ryan Sutton reviews restaurants for Bloomberg News. The opinions expressed are his own.)
Before it's here, it's on the Bloomberg Terminal.
LEARN MORE