Obama Has Total Legal Cover for Climate Action. Does He Have the Nerve?
By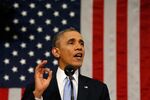 Among the usual State of the Union kitchen-sink issues and policy tub-thumping last night, President Obama managed one of his most succinct, unequivocal lines to date: "The debate is settled. Climate change is a fact."
Noting the damages already mounting in Western states struck by drought and coastal cities dealing with floods, he then touted his administration's work "with states, utilities, and others to set new standards on the amount of carbon pollution our power plants are allowed to dump into the air." By this, he surely meant the new regulations for future power plants that will treat greenhouse gases such as carbon dioxide like any other pollution dangerous to public health. That determination has been backed up not once, but thrice by the U.S. Supreme Court. Obama then summoned his inner promise keeper:
"When our children's children look us in the eye and ask if we did all we could to leave them a safer, more stable world, with new sources of energy, I want us to be able to say yes, we did."
All we could. That's the key phrase, both in terms of what he will propose and what he has the authority to enact without Congress. Because the people seated before him were notably absent from the "states, utilities, others" with whom the White House is working on the issue. And the short answer to what Obama has the authority to accomplish via executive order under the Clean Air Act is, well, almost anything.
"The Clean Air Act is the single most powerful environmental law on earth," says Mark Hertsgaard, an independent journalist and author who has covered climate change for more than 20 years. "It not only enables the president to act; it actually obliges him to act. The key verb is 'shall.' Not can. Shall. The president shall pass laws to protect the public health." Moreover, Hertsgaard notes, "the language of the law says the president is not supposed to even look at economic repercussions. It instructs only to look at public health. [Obama] actually has all the tools he needs."
So far, the Clean Air Act has withstood challenges to those initiatives Obama has been willing to take on. The signature climate initiative of this first term—higher fuel-efficiency standards for motor vehicles—and last year's announcement of the new regulations for power plants both survived legal scrutiny. The thing is, Obama's new regulations so far cover proposed plants, not existing ones. If Obama's serious about doing "all we could," he will need to push for stronger standards on coal-and-gas-burning electric plants now in use. And that, it hardly needs saying, will be a tooth-and-nail fight, especially in Midwestern and Southern states where coal plants are still relied on to keep the lights on. So the president and his Environmental Protection Agency chief, Gina McCarthy, can go after existing plant emissions—if they have the brass to do it.
Asked this morning what he thought Obama could get done without Congress, Bill Mckibben, a writer turned climate activist who has run out of patience with a leader who says the right things but doesn't, in his view, do enough, replied right away: "I'd note," Mckibben wrote via text message, "that he can sure as hell block Keystone all by himself."
Before it's here, it's on the Bloomberg Terminal.
LEARN MORE