North Korea Continues to Lure Tourists—Now With a Film Fest
by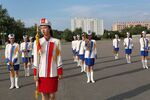 The news out of Pyongyang keeps getting darker. Last month, North Korea's leader, Kim Jong Un, executed his uncle Jang Song Thaek for allegedly plotting a military coup. And according to South Korea's Yonhap news agency, the dictatorship has also slain several of Jang's relatives, including Jang's elder sister, her husband (North Korea's ambassador to Cuba), Jang's nephew (North Korea's ambassador to Malaysia), and his two sons. (The news has not been confirmed.)
Still, tourists continue to travel to North Korea, and not just Dennis Rodman. "We sent 30 in today," says Nicholas Bonner, director of Beijing-based travel agency Koryo Tours. Last year about 5,000 westerners toured the tiny country, according to Bonner, 2,000 of them on Koryo-led trips. An estimated 30 percent of Koryo's clientele was American. Bonner doesn't expect the recent executions to affect business. "In 20 years, we've never not gone," he says. "Things that would impact tourism would be missiles going off or nuclear threats, stuff like that."
This month, Koryo Tours started advertising a seven-day trip to experience the Hermit Kingdom's very own Pyongyang International Film Festival, which will take place in mid-September. The agency has long worked closely with festival organizers to expand the range of films shown, according to the event's official website. "It's like any other film festival," Bonner says, "except when you're there, you're chaperoned by two people: your own guides who look after you."
The biennial festival won't finalize the program for its 14th event until days before the opening, but Bonner expects there will be at least 20 entries from foreign countries. Likely none from the U.S. or South Korea, though. In previous years, Bend It Like Beckham and Bean went over particularly well, says Bonner. Other films shown include March of the Penguins and Bride and Prejudice.
In 2012 the festival featured a feel-good film called Comrade Kim Goes Flying, which Bonner co-directed and produced with a Belgian filmmaker and several North Koreans (and with careful guidance from the Democratic People's Republic of Korea). The girl-power rom-com about a coal miner who dreams of becoming an acrobat was a hit, says Bonner.
Koryo tour-goers, who pay about $2,583, will have special access to directors, actors, and conductors. Their trip will also include visits to "the Arch of Triumph—similar to the French version but bigger" and the "USS Pueblo—American spy ship captured by the DPRK navy in 1968 and retained ever since as a trophy," according to the group's itinerary. They'll also visit monuments built by Mansudae Art Studio, which designs and builds statues and monuments for several countries, mostly in Africa.
Koryo Tours is not the only company leading special trips to North Korea. In December, Chinese agency Taedong Travel began offering tourists "the first opportunity to spend Christmas in North Korea," a country where Christians are routinely arrested, tortured, and even killed.
Before it's here, it's on the Bloomberg Terminal.
LEARN MORE