New York Decision on Fracking Regulations Delayed
Freeman Klopott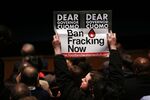 New York's environmental commissioner said he won't issue regulations to allow fracking for natural gas until at least April 2015, signaling that Governor Andrew Cuomo probably won't decide on the issue until after he faces re-election.
Joe Martens, who heads the Environmental Conservation Department, told lawmakers in Albany today that Cuomo's proposed $137 billion budget doesn't have any funding for oversight of high-volume hydraulic fracturing.
Asked if he'll end the more than five-year wait for fracking rules, Martens said, "We have absolutely no plans to do so" in the next fiscal year, which begins April 1.
Cuomo, a 56-year-old Democrat, is trying to balance the prospect of the type of economic development seen in Ohio and Pennsylvania against calls from environmental groups that say drilling will damage drinking water. New York banned fracking in 2008 to study its effects on the environment. Cuomo inherited the moratorium when he took office in 2011 and has kept it in place while the state reviews the issue.
In his State of the Union address yesterday, President Barack Obama said the U.S. is closer to being free of foreign oil than it has been in decades because of natural gas.
Marcellus Shale
Parts of New York sit atop the Marcellus shale, a rock formation that may hold enough natural gas to meet U.S. consumption for almost six years, the U.S. Energy Information Administration says. Shale has been tapped in states from North Dakota to Pennsylvania through fracking, which uses millions of gallons of chemically treated water to free gas.
More than 30 states allow fracking and New York is missing out on the economic benefits, said Karen Moreau, executive director of the New York State Petroleum Council, which represents gas drillers. Farmers in the Southern Tier, a region along the Pennsylvania border that sits atop shale, are suffering while their neighbors to the south prosper, she said.
"Whatever happened to Governor Cuomo's commitment to let science, and not politics or emotion, govern this process?" Moreau said in an e-mailed statement. "The human cost in New York, due to arbitrary delays on this matter, is real."
Ban Call
John Armstrong, a spokesman for Frack Action and New Yorkers Against Fracking, groups that oppose drilling, said science already shows the process is dangerous.
"The only reasonable conclusion is to ban fracking," he said in an e-mailed statement.
In 2012, Cuomo put Health Commissioner Nirav Shah in charge of studying how the drilling procedure may affect people's well-being. The governor has said he'll make his determination based on Shah's conclusions.
Last month, Shah said at a press briefing in Albany that he's not comfortable with scientific inquiries he examined in states including Texas and Wyoming. Cuomo said at the briefing that he expected to make a decision before November, when he faces re-election.
"But my timeline is whatever Commissioner Shah needs to do it right," Cuomo said. "I want the right decision, not necessarily the fastest decision."
Rich Azzopardi, a Cuomo spokesman, didn't immediately respond to a request for comment about Martens's remarks today.
Before it's here, it's on the Bloomberg Terminal.
LEARN MORE