New Jersey Towns See Little Super Bowl Action
By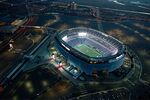 Hosting a Super Bowl is supposed to be the economic equivalent of a Beyonce or Bruce Springsteen half-time show, a lucrative frenzy of activity in which everyone wins. By the much-criticized estimates of organizers, the big game is expected to generate from $500 million to $600 million for the region. But the National Football League has apparently been stingy with local New Jersey officials who were hoping to join in the lucrative hoopla.
Several municipalities have been forced to dramatically scale back or cancel events after the NFL withheld rights to its "Super Bowl" trademarks and financial support, according to the Star-Ledger. Officials in Montclair, N.J., to cite one example, planned a multi-day festival for more than a year before they realized the NFL wouldn't provide financial support or let the town use "XLVIII" in its logo. Montclair told the newspaper that the multibillion-dollar NFL asked for a free retail space at which it could sell merchandise—a request the township turned down.
East Rutherford Mayor James Cassella said his town, despite being the site of the actual game, is also getting a stiff arm from the NFL. "There's nothing other than a sign that we put up ourselves that says this game is in New Jersey, which I find odd," he told a crowd of reporters recently. "If you go to New York, there's banners all over about the Super Bowl, so I take a little offense to that."
Newark is yelling at the ref as well. City officials told the Star-Ledger that they had to pull the plug on a street festival after the NFL failed to sanction the event; some of the fete's biggest potential sponsors allegedly declined to participate without the league's support.
The NFL, for its part, denied ignoring the Garden State, and it should be noted that the NFL isn't snubbing Jersey entirely. It held the pre-Super Bowl Media Day in Newark, and it enlisted several players in a Hurricane Sandy relief effort dubbed "Kickoff to Rebuild." Nor is it entirely surprising that New Jersey is on the fringe of the NFL's focus, which concerns the business of selling tickets, t-shirts, and TV rights—commerce conducted more lucratively and visibly in Times Square than virtually anywhere else in the region.
Plus, the NFL is hustling to expand on its U.S. sport dominance by building its brand abroad. From that perspective, the more marketing money it dumps on the tourist-packed streets of Manhattan, the better.
New Jersey, at least, will always have the Turnpike's Vince Lombardi Service Area, named after a local high school coach who went on to work in Green Bay, Wisc. It's as good a spot as any to play some parking lot pigskin.
Before it's here, it's on the Bloomberg Terminal.
LEARN MORE