Green Mountain's Defense Plan: A Bigger Brewer
by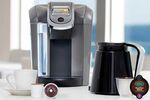 Green Mountain Coffee Roasters built its coffee empire one little pod-brewed cup at a time. This morning the company announced a departure: Its new push-button machine is able to brew up to 30 ounces — about three cups — at a time. The device, dubbed Keurig 2.0, is expected to go on sale in the fall.
"Keurig has always been about changing the game and we see 2.0 as another game-changer," said David Manly, Green Mountain's senior vice president of innovation,  glossing over the fact that people have been brewing more than one cup of coffee for quite some time.
The announcement explains, to an extent, what Green Mountain has been doing with its R&D money, an expense category that swelled from $18 million in 2011 to $58 million last year. According to that research, including feedback from a new retail store, a lot of consumers are interested in pots—rather than cups—of coffee. About one-quarter of Keurig users still pull out a different device at least once a week to make more than a few ounces at a time, according to Manly.
From that perspective, the super-size Keurig certainly seems like a no-brainer. The new machine will take both the small, single-cup pods and the new bigger ones. Eventually, Starbucks or one of the other coffee giants will probably make their own versions.
Green Mountain said that isn't a huge concern, sticking to a script it has been using since its critical patents started expiring. These days the company survives on a classic razor-and-blade model. It sells its brewers at or below cost in order to lock in a stream of revenue from its proprietary cups. Meanwhile, it secures pod sales by locking popular brands into licensing deals. Last year almost three out of every four revenue dollars came from its pods and accessories.
Keurig now has 35 licensed brands packed into its cups, including Snapple fruit-flavored brews, Swiss Miss hot cocoa, and a Cinnabon coffee blend that's supposed to taste like a pastry. Later this year its machines will start streaming Campbell's soup.
Before it's here, it's on the Bloomberg Terminal.
LEARN MORE