The Greek Yogurt Ad Wars Get Bitey
by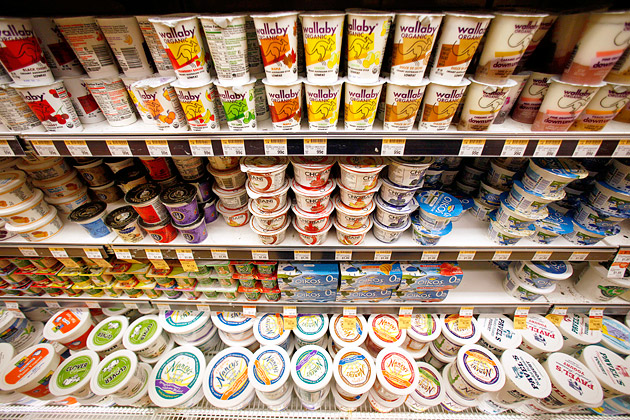 The other battle in Super Bowl XLVIII—a pricey war of Greek yogurts—pits a graying John Stamos against a 1,400-pound Kodiak named Whopper. Vegas has yet to set odds.
Yogurt upstart Chobani yesterday posted its 60-second Super Bowl commercial on YouTube, showing a snuffling bear terrifying customers at a small-town country store called Howard's. The bear eventually absconds with a cup of honey Chobani in his maw while police scurry about and Bob Dylan croons I Want You in the background. A voice-over by Mandy Patinkin intones, "It's hard these days to find food made with only real, natural ingredients."
Chobani wouldn't disclose how much it's spending on the spot, but ads for this year's Super Bowl are reportedly going for about $4 million per 30 seconds.
The ad ratchets up the competition between Chobani and Danone's Dannon Oikos brand, two of the country's best-selling Greek yogurts. Danone earlier unveiled its Oikos "bromance" campaign featuring Greek-American TV star Stamos with his former Full House co-stars Bob Saget and Dave Coulier.
Annual revenue at privately held Chobani, led by Turkish entrepreneur Hamdi Ulukaya, has shot to more than $1 billion since the company began offering products in 2007. Last year French food giant Danone struck back with a marketing blitz that included free samples and a Super Bowl ad.
Chobani will spend more on marketing and advertising in the first half of 2014 than in any year before, said Peter McGuinness, the company's chief marketing and brand officer. The bear invasion ad, with the tagline #howmatters, is part of a campaign designed to focus consumers on how food is made (the Super Bowl), how you train (the Winter Olympics), and similar themes. "We've been a manufacturing company, now we're transitioning to being a marketing company," he said.
Chobani's ad came from Droga5, a unit of William Morris Endeavor, and was filmed in western Canada.
Before it's here, it's on the Bloomberg Terminal.
LEARN MORE