Chinese Retailers Hope for a Warmer Welcome to the Year of the Horse
by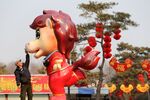 As millions of Chinese factory workers and big city residents prepare to visit relatives in other parts of the country, they need to stock up on gifts for the family. So this time of year is an especially busy season for Chinese retailers.
But last year a new austerity drive promoted by Chinese President Xi Jinping put a damper on the festivities. As part of this campaign to fight corruption, China's leadership discouraged conspicuous consumption and hurt New Year sales, with retail turnover during the weeklong festival rising at its slowest rate since the depths of the global financial crisis. Sales grew 15 percent, to 539 billion yuan ($90 billion), according to data from China's Ministry of Commerce.
With Chinese preparing to welcome the Year of the Horse, the crackdown may continue to hurt some retailers. As my colleague Dexter Roberts reported last week, China's graft busters, the Central Commission for Discipline Inspection, has called on whistle-blowing citizens and the media to report "exuberant spending and gift acceptance." Companies in China may respond to the ongoing campaign by cutting "back on traditional pre-festival gifts, especially for government officials," according to a report by Thomas Jastzab and Ji Shi, analysts with Bloomberg Industries.
Still, there's no doubt Chinese consumers are buying a lot more than they used to. Even with last year's restrained growth, sales during the Chinese New Year were more than twice the amount Chinese consumers bought during the festival in 2008.
With China's trains, buses and planes jammed in the days before the holiday, just managing to transport purchases back to family members in the countryside is a challenge for many consumers. There should be 3.6 billion passenger trips during this year's holiday season. That's why some e-commerce sites are trying to win market share by setting up delivery systems to allow migrant workers to avoid schlepping purchases themselves, write Jastzab and Ji.
Services such as those should further endear China's e-commerce companies to the country's consumers. After lagging behind the U.S. and other countries, online shopping is enjoying explosive growth in China. The number of Chinese shopping online last year increased 25 percent, to 302 million. Transactions could be worth 2.45 trillion yuan, a 32 percent increase over 2013, according to iResearch. That would be a repeat of the stellar performance last year, when Chinese online retailers enjoyed a 31.9 percent increase in sales.
Some well-known Chinese retailers are struggling to stay relevant as consumer tastes and shopping habits change. Li Ning, the sportswear company named after the Chinese gymnast who lit the Olympic flame in Beijing in 2008, has just finished what is likely to be its third-straight year of negative sales growth, with turnover in 2013 likely having dropped 13 percent, to 5.85 billion yuan, according to data compiled by Bloomberg. Shanghai-based Lianhua Supermarket's shares dropped more than 4 percent in Hong Kong trading today after the operator of hypermarkets, supermarkets, and convenience stores issued a profit warning. The stock has plunged more than 22 percent since the start of the year.
Before it's here, it's on the Bloomberg Terminal.
LEARN MORE