Bharti Gains as Quarterly Mobile Data Revenue Doubles
Anoop Agrawal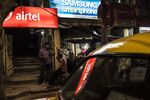 Bharti Airtel Ltd., India's largest mobile-phone operator, headed for its biggest gain in more than a month in Mumbai trading after reporting mobile data revenue more than doubled in the third quarter.
Shares of Bharti rose as much as 2.9 percent, poised for the biggest gain since Dec. 17. They traded at 309.80 rupees, or up 1.2 percent, as of 9:55 a.m. in Mumbai trading.
Bharti Airtel's net income more than doubled to 6.1 billion rupees in the three months ended December from 2.84 billion rupees in the year earlier period, the New Delhi-based company said in statement today. That lagged behind the 10.5 billion-rupee median estimate of 30 analysts' estimate.
The company reduced net debt to $9.3 billion. Earnings before interest, tax, depreciation and amortization rose 22.8 percent, while Ebitda margins increased 2.5 percent, Bharti said.
"The performance, if you exclude the exceptional item, has been boosted by the data and non-voice revenue growth," said Ankita Somani, an analyst at Angel Broking Ltd. in Mumbai. "Bharti has also curbed discounts and vouchers which have helped the operational performance overall."
Bharti's mobile Internet revenue rose to 17.4 billion rupees in the quarter, accounting for more than one-third of the total incremental revenue, the company said.
Before it's here, it's on the Bloomberg Terminal.
LEARN MORE