A Stealth Test for Chicken and Waffles at Burger King?
By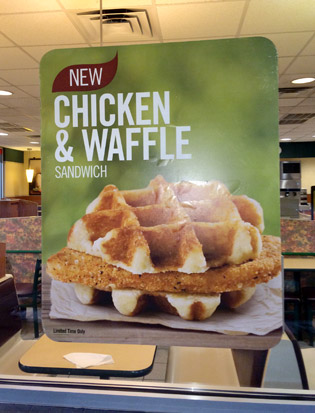 Wendy's isn't the only fast-food chain rethinking the oft-neglected bun. A Burger King restaurant in Pittston, Pa., is reportedly serving a chicken sandwich that uses waffles in place of bread.
"The sandwich features a soggy breaded chicken patty in between two equally soggy waffles," food website Foodbeast reports. Doesn't sound too appetizing, but one diner who spotted and sampled the sandwich late Monday night attested on Instagram: "It's not as bad as it looks."
"It was okay, I guess," Troy Smith elaborated in an e-mail. "The chicken patty tasted the same to me as the one on the value menu, but the waffle was decent. It had a sweet taste to it. I'm assuming that is supposed to make up for the butter or syrup that I've had on other, no-sandwich-chicken-and-waffle dishes. Would I get it again? Probably not."
It's not yet clear whether the chain has bigger chicken-and-waffle ambitions. "At this time, the chicken and waffle sandwich is something we are testing regionally but have not solidified plans beyond the test," said Eric Hirschhorn, Burger King's chief marketing officer, North America, in an email.
The waffle does seem to have captured the imaginations of fast-food chefs. Taco Bell has been experimenting with the Waffle Taco—breakfast meat, chicken, or fruit folded into a single taco shell-shaped waffle. And Popeyes last summer introduced waffle batter-coated chicken strips called Chicken Waffle Tenders, which became the company's most successful limited-time offer in five years. One McDonald's franchisee even created a chicken and hotcakes combo, though that item never went national.
* Updates with comment from Burger King.