Seeking a Bombed-Out Buffer to Safeguard King Tut's Cairo Home
By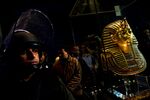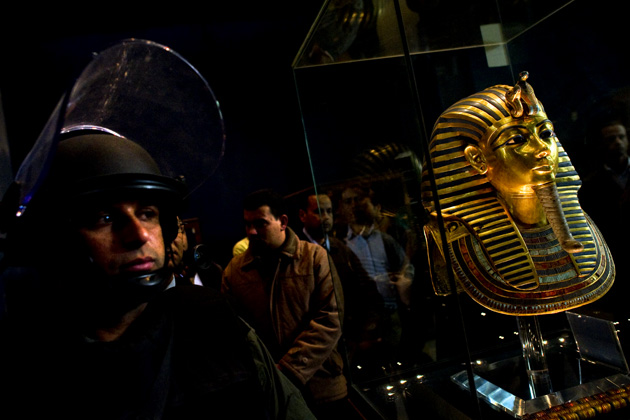 As Egypt marks the third anniversary of its uprising, the charred shell of a Cairo building stands as a symbol of another fight: to protect the nation's cultural heritage during turbulent times.
The structure, which sits almost cheek-to-jowl with the Egyptian Museum, was headquarters of ousted President Hosni Mubarak's National Democratic Party until protesters set it alight three years ago, on Jan. 28, 2011. While the fire burned, archaeologists and art lovers glued to televisions around the globe feared the flames might spread to the adjacent museum, which houses the treasures of King Tutankhamun, mummies, and other irreplaceable artifacts. As Bloomberg Businessweek reported at the time, threats to the museum's security raised questions about Egypt's ability to protect humankind's shared history.
Now a real-estate deal for the burned building could bring new protection for the world's largest Egyptian collection. A group that includes museum staff members and Egyptologists is prodding the government to raze the damaged structure and turn over the land to the museum as a buffer zone against future violence. Using a petition on Change.org, the Supporters of the Egyptian Museum in Cairo hope to convince Prime Minister Hazem El Beblawi that the Nile-view property would be better used for cultural preservation than other proposals, such as building a hotel. "The plot is vital for the security of the museum and for any further plans or projects for its development in the future," says the petition, for which organizers are seeking 20,000 signatures.
Across town, meanwhile, are new reminders that the threat is real. Last week a bomb intended for a police headquarters also rocked the neighboring Museum of Islamic Art, shattering the museum's display cases and destroying centuries-old ceramics and other objects.
While there are no signs yet how the government will treat the petitioners' proposal, a good historic argument could be made for ownership: The land originally belonged to the museum when it first opened in 1901, the petition says.
Before it's here, it's on the Bloomberg Terminal.
LEARN MORE