Tarantino Sues Gawker. Are Journalists Responsible for Content They Link to?
By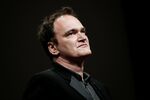 Can news organizations be held legally responsible for linking to illegal material on the Web? Quentin Tarantino may provide the answer.
On Monday morning, the movie director filed suit against Gawker Media for linking to various file-sharing websites that had published a leaked copy of a Tarantino screenplay for an ensemble Western entitled The Hateful Eight.
"Gawker Media … expressly refused to remove their directions to and URL links to get the infringing materials," reads Tarantino's complaint (PDF). "Gawker Media knowingly and actively acted as a promoter of copyright pirates, and, itself, did directly cause, contribute to, enable and facilitate copyright infringement."
On Monday evening, Gawker posted a response disputing the lawsuit's allegations. Editor John Cook pointed out that Gawker Media's site Defamer had not leaked the material but had merely reported that the script had surfaced elsewhere on-line and directed readers to sites on which it had been posted.
 
Cook went on to note that the lawsuit did not accuse Gawker Media of direct copyright infringement but rather made allegations of "contributory infringement," a legal tactic traditionally deployed against file-sharing sites, not news organizations:
 
Gawker and Defamer are news sites, and our publication of the link was clearly connected to our goal of informing readers about things they care about. As far as I can tell (but I'm no lawyer!), no claim of contributory infringement has prevailed in the U.S. over a news story. We'll be fighting this one.
 
Sure enough, the question of how contributory infringement might apply to news organizations appears to be largely unsettled, according to the Los Angeles Times:
[R]eporters often assume that providing links to items of public interest is perfectly aboveboard, even if the items themselves aren't. If this case goes to trial, it could help clarify what links simply can't be published legally, regardless of the news value.
The lawyers I consulted, including the Times' Jeff Glasser, couldn't think of any cases in which a news site had been sued for publishing a link to infringing content someone else had posted. But attorney Michael Page, a copyright expert at Durie Tangri in San Francisco, said providing such a link could nevertheless amount to "contributory" infringement, particularly when the news site had been told the material was infringing and yet refused to delete it.
Gawker Media has a track record of successfully fighting in court against allegations of direct copyright infringement. (See Hogan, Hulk). This time around, it appears the company will be battling on new ground.
Before it's here, it's on the Bloomberg Terminal.
LEARN MORE