Can the U.S. Economy Withstand the Emerging-Markets Mess?
by
Emerging markets are convulsing. Violent protests pose serious threats to governments in Thailand and Ukraine, whose prime minister has just resigned. Inflation is surging—again—in Argentina. Stocks are tumbling in Turkey, India, and Brazil. An emerging market exchange-traded fund run by IShares has dropped nearly 13 percent since October.
How likely is this contagion to spill over to the U.S.? To a degree, it already has. Since peaking toward the end of last year, both the Dow and the S&P 500-stock index have sold off more than 3 percent in the past 10 days. The U.S. economy has certainly caught colds from other parts of the world before, but a look back over the past two decades shows that the U.S. may be in a much stronger position this time around.
One of the best measures of the U.S. economy's immune system is a running indicator kept by the Cleveland Fed called the Financial Stress Index. Designed to "track distress in the U.S. financial system," the CFSI is a composite of 16 metrics across a handful of markets, including credit, equity, foreign exchange, and real estate. Right now, the amount of financial risk in the U.S. economy, as measured by the CFSI, is lower than it's been since 1992.
A team of U.S. economists at RBC Capital Markets has put together an interesting chart laying out historic shocks against the CFSI: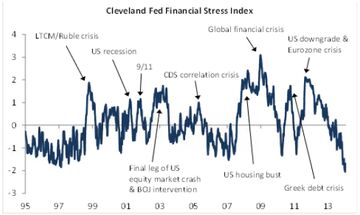 Times that outside crises have hit the U.S. hard coincided with periods of vulnerability in the U.S. Part of the reason the 2008 financial crisis was so terrible is that the U.S. financial system had years of stress built into it when Lehman Brothers went bankrupt in September 2008. Two years later, when the Greek debt crisis started heating up, there was still a lot of stress in the U.S. economy from the housing bust working through the system. The euro zone crisis in 2011 coincided perfectly with the U.S. debt crisis and downgrade. Every one of these events gave a good kick to the U.S. economy and stock market.
But the U.S. has been de-stressing for the past two years. That's why Jacob Oubina, senior U.S. economist at RBC Capital Markets, thinks it is well-positioned to withstand  the emerging-markets firestorm. "These could certainly be huge events for the individual countries, but on a global scale, we're making a mountain out of a mole hill," says Oubina.
Before it's here, it's on the Bloomberg Terminal.
LEARN MORE