SAC Capital's Martoma Defense May Be Hurt by Partnership
Bob Van Voris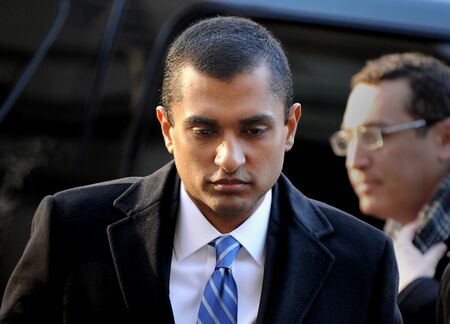 When former SAC Capital Advisors LP fund manager Mathew Martoma presents his defense to insider-trading charges, how much he shares with jurors may be limited by what his lawyers called "toxic character evidence."
Part of that evidence, which Martoma's attorneys have fought to keep from the jury in Manhattan federal court, is his 1999 expulsion from Harvard Law School for making a phony transcript of his first-year grades. That fight became public this month when a judge unsealed court papers on the matter.
There's also Martoma's relationship with Stephen Chan, who was facing charges that he defrauded financial firms of $12.6 million when they met that year. Chan pleaded guilty to mail fraud and conspiracy and was sentenced to more than four years in prison. FBI agents who approached Martoma at his Florida home in 2011 used Chan's name as a pretext to talk with him. When they said they really wanted to talk about Martoma's trades, he fainted.
Though that was a ruse, their association, which lasted only a few months, may complicate Martoma's ability to contest charges that could land him in prison for 20 years. If Martoma takes the stand during the defense case, which began today, prosecutors can use his history with Chan as ammunition to attack his credibility. The FBI was probing businesses the men set up together as recently as last year, a witness said.
Undermine Credibility
"All this evidence can be used to undermine and destroy Martoma's credibility," said Anthony Sabino, a law professor at St. John's University in New York. "They don't dare put him on the stand." His expulsion and the creation of a company to allegedly fabricate evidence for an appeal of Harvard's sanction "show a propensity of the man to engage in intellectual cheating -- very complex cheating."
Lou Colasuonno, a spokesman for Martoma, said the fund manager's association with Chan and the Harvard matter "was a decade and a half ago and has no bearing on the present case."
While not calling Martoma as a witness limits the government's ability to impugn his credibility, it also restricts the defense's power to counter the charges.
"It cuts off any avenue by which Martoma can explain himself," Sabino said. The trial is in its fourth week.
Martoma, 39, masterminded the most lucrative insider-trading scheme in history, prosecutors said. He's charged with conspiracy and securities fraud for allegedly using inside information from two doctors supervising a clinical trial of a drug intended to treat Alzheimer's disease.
Steven Cohen
Prosecutors claim Martoma had a 20-minute phone call with SAC Capital founder Steven A. Cohen in July 2008 after getting non-public data about the results of the drug trial. Stamford, Connecticut-based SAC Capital benefited by $276 million in trades of Elan Corp. and Wyeth, the companies that were developing the drug, the government said.
In November, SAC Capital reached a record $1.8 billion settlement of the U.S. investigation of insider trading at the hedge fund, agreeing to plead guilty to securities fraud and end its investment advisory business. Cohen hasn't been charged.
First Met
When they met, Martoma was challenging his expulsion from Harvard, and Chan was accused of running a scheme that defrauded financial companies including General Electric Capital Corp.
"He was very persuasive, bright, very charismatic," then-Assistant U.S. Attorney Allison Burroughs told the judge at Chan's 2002 sentencing. "He was able to convince a lot of people that what he was doing was worthwhile and going to be a success and made it worth their while to give up secure jobs and careers in order to go with him."
Martoma's current lawyers said in court papers that his attorney in 1999 introduced him to Chan "as someone who could provide assistance with technical issues."
Chan proposed that they form a company to provide evidence supporting Martoma's side of the story at Harvard, Martoma's lawyers claimed.
Chan's attorney, Stephen Delinsky, said his client didn't offer to help Martoma with his Harvard appeal. In a court statement in 2000, Chan claimed Martoma approached him with the idea of forming a computer forensics company, with financial backing from Martoma's father.
Sometime around May 1999, Martoma and Chan formed Computer Data Forensics Inc., according to Martoma's lawyers. Martoma didn't tell Harvard of his interest in the company, which prosecutors said was part of an unsuccessful attempt to mislead the law school into letting him back in.
In his appeal, Martoma failed to persuade Harvard Law Professor Randall L. Kennedy to overturn an administrative board recommendation that he be expelled.
One of Martoma's claims was that he hadn't backdated a key e-mail. Computer Data Forensics submitted to Harvard a four-page report supporting Martoma's explanation.
At the board's hearing, one of Martoma's computer experts withdrew from testifying because "he did not feel that he was in a position to authenticate…Mathew's version of the events," according to the board's report.
Good Friends
After Chan and Martoma started the company, they became good friends, Chan said in a court statement in 2000.
They had a lot in common -- both were in their 20s, had excelled at top colleges and held prestigious jobs. Martoma graduated summa cum laude from Duke University in 1995 and was hired as deputy director of the Human Genome Research Institute's Office of Genome Ethics. Later, at Harvard Law School, Martoma co-authored scholarly papers on medical ethics with experts in the field.
Chan, now 42, won top academic awards in high school and worked at International Business Machines Corp., Delinsky said in his client's 2002 sentencing. He graduated from Massachusetts Institute of Technology in 1993, where he co-wrote papers with a visiting professor from Japan. He started a company at age 23, Delinsky said.
Arthur Murray
According to Chan, he and Martoma worked out together, practiced martial arts and took dance lessons at the Arthur Murray Dance Studio in Natick, Massachusetts. They had dinner together five or six times a week, Chan said.
At Chan's urging, Martoma said, he moved in mid-1999 to the apartment development in nearby Framingham where Chan lived.
The relationship between Martoma, then known as Ajai Mathew Thomas, and Chan, however, would end in threats and violence, according to a lawsuit Martoma filed against Chan in 2000.
Martoma's legal team declined to comment on what Martoma did after his expulsion from Harvard.
"He spent a year doing volunteer work as a form of personal rehabilitation," his lawyers said in court papers.
"That was way back," said Chan, when asked about his history with Martoma. Chan referred questions to Delinsky in Cambridge, Massachusetts.
"Mr. Chan is not going to comment any further on events that took place 15 years ago," Delinsky said in a phone interview.
Untrained Temps
Martoma was questioned in 2000, with his lawyer present, by the Federal Bureau of Investigation, during its probe of Chan.
Prosecutors said Martoma stated that the report submitted to Harvard from their company had been signed by untrained temporary workers.
It was signed by Chuck Clarke, who was identified as "Case Analyst & Project Manager," and two other temporary workers.
Clarke, who worked in publishing and had a degree in psychology, said he was recently interviewed at his home by two FBI agents about Martoma's actions in 1999.
Clarke was assigned by a temp agency to work at the Computer Data Forensics office in midtown Manhattan, he said, along with two other men. None had any training in computer forensics. They knew Martoma as "Jay Hale," he said in an interview.
Paint Ball
At the company, Clarke said he and his fellow temps earned overtime by going on weekend trips with Martoma and Chan for all-expenses paid "team-building exercises" in Massachusetts. They would go canoeing, kayaking and rock-climbing and play paint-ball. They would stay in hotels and go out to dinner together, according to Clarke.
"We had the time of our lives," he said.
During the week, though, they had nothing to do.
"I would surf the Internet, I would make phone calls, I would take long lunches," said Clarke, who added that he was given the title of "branch manager."
The group drove around in a rented van using parabolic microphones to listen to conversations in other cars, he said. They were given black sweat-suits and fatigues for paint-ball. There was a set of glasses with a miniature camera. Clarke said he briefly wondered if they were being trained to be spies. Later, he said he figured Martoma and Chan were just "rich kids with nothing to do," pretending to be businessmen.
"We were like rent-a-friends," he said.
New Company
Computer Data Forensics lasted only a few months. In August 1999, Martoma started Instant Corporate Infrastructure Inc. Clarke said that he and the other temps stayed on as employees.
ICI was to offer services including "website development, electronic brochure development, trade booth construction and web integration," Chan said in his 2000 court statement.
Clarke said Martoma and Chan told employees that ICI was intended to "take small businesses and make them seem bigger than they were."
While the focus of the business changed, one thing stayed the same, according to Lisa Pressman, who was hired as an executive assistant at ICI: there was no work to do.
"There weren't ever any clients," Pressman said in an interview. "It was really, really weird."
Suffer
The company had a Mercedes Benz and a BMW, she said. Chan would give the employees motivational talks, telling them they'd have to work hard and suffer if they wanted to be successful.
"If you want this Mercedes Benz, you have to go out and get it," Pressman said Chan told her. "We were so excited. Then it's a few months later and we haven't gotten one phone call from a client?"
Near the end of 1999, the locks to ICI's office had been changed and Pressman and the other employees couldn't get in, she said. Locked inside were some of her personal things: photographs, a sweater, a hat.
Martoma and his mother met the employees in midtown, promising they'd be paid for the work they'd done and that they could retrieve their belongings, Pressman said.
Martoma's family had invested more than $1 million in the enterprise, "all of which was ultimately lost," Martoma's lawyers said in a court filing in December.
Chan Sued
Just after New Year's Day 2000, Martoma sued Chan and obtained a restraining order against him. Martoma claimed Chan had kicked him in the stomach, screamed insults and threatened him and his parents. Chan said he didn't assault or threaten anyone.
In 2001, Martoma changed his name from Ajai Mathew Thomas to Mathew Cochukattil Martoma. His lawyers said in court papers that the name change was unrelated to his expulsion from Harvard. Martoma's mother, father and two brothers all changed their names to Martoma from 1994 to 2001, they said.
In September 2001, Martoma started graduate school at Stanford University's School of Business, on the other side of the country, leaving Chan behind.
That same month, Chan pleaded guilty in Boston to a single count each of conspiracy and mail fraud. Six other participants in the scam pleaded guilty, receiving sentences ranging from probation to two years in prison.
Stanford, citing privacy laws, won't say what, if anything, Martoma disclosed about his time at Harvard, his expulsion, his failed businesses or what he did during the years 1999 and 2000.
"Our application includes questions asking applicants about attendance, academic status, and disciplinary actions at other institutions," Barbara Buell, a spokeswoman for the school, said in an e-mailed statement. "Expulsion from another institution due to fraud, if it were disclosed or known, would create a serious impediment to admission."
The case is U.S. v. Martoma, 12-cr-00973, U.S. District Court, Southern District of New York (Manhattan).
Before it's here, it's on the Bloomberg Terminal.
LEARN MORE