Latest Headache for NCAA Inc: College Football Players Want to Unionize
Paul M. Barrett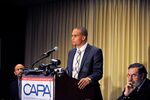 The NCAA's ideal of student-athletes who take the field purely for the love of sport came under fire from a new direction on Tuesday as football players at Northwestern University announced they want to form a union—and they've got the United Steelworkers behind them.
The newly formed College Athletes Players Association would be the first athlete-specific union in the history of college sports, our colleagues on the Bloomberg News sports-business desk report. The Steelworkers are paying the nascent association's legal fees in applying to the National Labor Relations Board for recognition.
Northwestern's senior quarterback, Kain Colter, said that college athletes need to assert their rights against the National Collegiate Athletic Association in the same way that pro athletes do so against the National Basketball Association and National Football League. Could this work?
First, some critical context: We're talking primarily about the so-called revenue sports, Division I men's football and basketball. Don't expect much labor activism on the fencing team.
The NCAA will fight fiercely against unionization, just as it's currently battling in court to prevent athletes from profiting from the use of their images in video games. Donald Remy, the NCAA's chief legal officer, said the Northwestern athletes' attempt to unionize "undermines the purpose of college: an education." He added: "Student-athletes are not employees, and their participation in college sports is voluntary."
This resistance reflects the NCAA's traditional stance that the only compensation college athletes ought to receive is their degree upon graduation. With college sports now generating upwards of $8 billion a year from television rights, tickets, and licensing fees, the young people whose labor actually makes all that money possible are getting impatient with amateurism rooted in 19th century British ideals.
The Northwestern players want the NCAA to share the wealth by such means as guaranteed coverage for sports-related medical expenses for current and former athletes and money for scholarships. Sounds pretty reasonable. At the same time, though, the NCAA is desperate to fend off any attempts to loosen its grip on the college-sports purse strings. Bloomberg News provides some excellent background:
The move to unionize comes as the NCAA faces several legal challenges, including a lawsuit by former University of California-Los Angeles basketball player Ed O'Bannon, who alleges the governing body for college sports used his image and likeness in video games without consent. … "This is almost inevitable in light of the various litigations against the NCAA relating to, among other things, the use of likenesses and images," James Quinn, a senior partner at New York-based Weil Gotshal & Manges, said in a telephone interview. "At some point, with all the money around, surely as night follows day, the folks who are actually producing all that revenue are going to say, 'We should have some share of it.'"

The NCAA also faces a class-action lawsuit over brain injuries that alleges the organization failed to provide players with proper rules and education involving the long-term effects of head trauma. Mark Conrad, head of the sports business program at Fordham University's Gabelli School of Business, said the athletes have to clear a number of hurdles, specifically that unions typically represent employees. The group would need to effectively argue that student-athletes, who are not paid, constitute employees.
"If the day were to come that athletes get compensated, then I think there's a much stronger case" for unionization, said Conrad, who teaches sports law. That day may come sooner than the NCAA realizes, but it's not here yet. That means college athletes will have to wait a while for those union cards.
Before it's here, it's on the Bloomberg Terminal.
LEARN MORE