Is This a Guitar or an Ad? Find Out at the Met. (Oops, Was That an Ad?)
by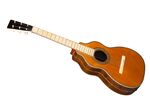 A company pays to exhibit the history of its founder. Do you want to see that exhibit in a museum?
"Early American Guitars: The Instruments of C.F. Martin," at the Metropolitan Museum of Art, is "made possible by" Martin Guitar Co., as the Met puts it. Corporate sponsorship isn't unusual. Assembling an exhibition is an expensive proposition. The curator has to track down all the art, convince its owners to part with it, ship it to the museum, frame it and insure it. To offset those costs, museums find companies or foundations willing to pay for the show. The Guggenheim's Futurism show , for instance, is sponsored by Lavazza, the MoMA's Genzken show by Celine, and this year's Whitney Biennial by BCBG Max Azria, Deutsche Bank and Sotheby's.
Well, looking at proto-fascist art won't make you want to buy more espresso -- maybe less. Lavazza et. al are paying for an association with high art, along with any tax breaks they might get. There's no real ethical danger here.
What about those gleaming guitars at the Met, brought to you by the good people who make those gleaming guitars at the Met? Along with burnishing Martin Guitar's reputation, could the museum or curator be beholden in some way to its benefactor as it mounts the exhibit?
Nope, says Jayson Dobney, associate curator in the Department of Musical Instruments at the Met and curator of the show. The show is about the man, C.F. Martin, not the company he founded, Dobney says. "C.F. Martin's importance is that by the time he'd finished his career, he'd made a guitar in the mid-19th century that all guitars are now based on," he says.
Dobney notes that the show is a collection of 35 guitars, 34 of which were made before the Civil War. (The 35th, made in 1939, was played by Eric Clapton on MTV's "Unplugged" in 1992.) He says he planned the show before Martin offered to sponsor it. "Funding almost always comes along late, when you actually have something that you want to fund," he says.
"They simply wrote us a check," says Nina Diefenbach, vice president for development and membership at the Met. "They don't have any involvement in the display of the exhibition." During the planning phase, Diefenbach adds, Martin lent the Met several guitars from its own museum, the sort of help she says is most important to the Met.
Amani Duncan, vice president of brand marketing at Martin, says supporting museums around the world is part of the company's policy and that it "keeps the oral tradition of our history alive ... and helps promote the brand."
Too close for comfort? Viewers can pay the Met's suggested $25 entrance fee and decide for themselves.
Before it's here, it's on the Bloomberg Terminal.
LEARN MORE