Indian Motorcycles Finally Rev Up to Speed for Polaris
By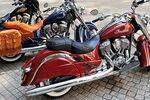 It turns out six decades of collecting dust may have been just what the Indian motorcycle brand needed.
Polaris, which resurrected the nameplate in August with three new bikes, said this morning that "pent-up demand" has fueled a slew of orders for the first models rolling out of factories. The long-defunct brand may put a dent in Harley-Davidson after all. "The shipment ramp-up was a little slower than we would've liked, but the initial quality is through the moon," Polaris Chief Operating Officer Bennett Morgan said on a conference call this morning. Customers, he added, "love the styling, they love the future refinements, and it's really kind of a lovefest."
In the fourth quarter, traditionally a slow period for motorcycle purchases, Polaris bike sales almost doubled, to $68.8 million. That growth was driven almost entirely by the new Indians, not by Victory, the company's other motorcycle brand.
The Indians, meanwhile, may just be getting tuned up as Polaris expands production and builds out its dealership network. Only 60 of the 140 North American dealers signed on to sell the bikes actually have them in stock, according to Chief Executive Officer Scott Wine. "The launch has been spectacular, but starting this spring we will begin to see the full potential … as consumers around the world begin to make the choice," Wine said.
In truth, though, this was the quarter when Indian sales should have been huge—needed to be huge. It was the first period when bikes hit the market en masse and potential buyers were primed by an extensive marketing blitz and a flurry of commendable, hard-won reviews. The people scrambling to buy a new Indian in November were most likely those excited about the burnishing of a storied brand, not necessarily old-school Hog riders switching to the new bike on its merits. In the months and years to come, Indian is going to have to capture a good share of that tough, leather-chapped market if it wants to keep cruising at its current pace.
Of course, unlike Harley, Polaris doesn't need to sell motorcycles. More than 90 percent of its business comes from dirt bikes, ATVs, and snow machines. It sprang for Indian because it seemed cool; anyone who has ever bought a motorcycle can respect that.
Before it's here, it's on the Bloomberg Terminal.
LEARN MORE