business
Ford, Still Cruising, Sees Bumpier Roads Ahead
By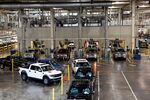 U.S. pickup buyers helped Ford Motor blow past Wall Street expectations yet again in the most recent quarter, even as the carmaker's South American operations swung to a loss because of exchange rate turmoil in Argentina and Venezuela and as European operations finished the period almost $600 million in the red despite gains in momentum.
Yet Americans flocking to the F-150, Fusion sedan, and Lincoln MKZ poured $1.7 billion into the company's coffers. Here's a look at fourth-quarter performance by region:

Still, Ford told investors again that the road won't be so wide open in the current year, reiterating a warning that sent shares skidding roughly 10 percent last month. Executives said prices will be driven down by a rash of new vehicles, including about 23 of its own models that will be seminal or significantly updated. Production will also be crimped as the carmaker retools its factories to make all of that metal. For its coming F-150 alone, Ford said it will stop assembly lines for about 11 weeks.
"We've had a really good runup over the last five years or so," Ford Chief Financial Officer Bob Shanks told reporters Tuesday at the company's headquarters near Detroit. "This is a preparation year as we consolidate the gains of the past and prepare for even stronger growth in the future."
All told, Ford said 2014 sales will be level with last year, while operating margins will tighten from 2013's 5.6 percent rate. In short, it may be better to be a Ford customer than a shareholder this year. It will be a bit of a buyer's market, and incentives will be particularly sweet on outgoing models.
Before it's here, it's on the Bloomberg Terminal.
LEARN MORE