China Bond Risk Drops as Trust Rescue Offer Avoids Lehman Moment
Bloomberg News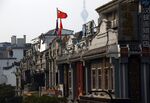 The cost of insuring China's bonds against non-payment fell the most since September and debt linked to municipalities gained after the bailout of a troubled trust product averted a default that may have spooked markets.
Credit-default swaps protecting Chinese sovereign bonds for five years slid nine basis points, or 0.09 percentage points, to 96 yesterday in New York, according to data provider CMA. The average yield on five-year notes rated AA, the most common grade for so-called local-government financing vehicles, dropped two basis points to 7.58 percent, the biggest decline in more than two weeks, ChinaBond figures show.
The CDS jumped 14 basis points last week to 105, the highest since August, amid speculation a 3 billion yuan ($496 million) trust product would fail to repay investors following the collapse of a coal miner. China is seeking to give market forces a greater role in pricing risk in the world's second-largest economy, while limiting increases in borrowing costs to prevent a surge in defaults.
A failure would have caused "a re-pricing on all similar products in the market and there could be a credit squeeze in which borrowers would be affected," Qiang Liao, a senior director of financial institutions ratings at Standard & Poor's in Beijing, said in a phone interview today. "This kind of concern has temporarily been mitigated."
Billionaire investor George Soros wrote on Jan. 2 in Project Syndicate that there were "eerie resemblances" between China's debt market and the U.S. in the run-up to the financial crisis, when the collapse of Lehman Brothers Holdings Inc. led to a freeze in global credit. Bill Gross, chief investment officer of Pacific Investment Management Co., the world's biggest bond manager, said on Twitter: "Sounds familiar as in 2008. Be very careful with your money."
Lehman Moment
"This particular case can serve as a benchmark or test case for how the Chinese government is going to approach any default or fallout from the shadow-banking system," said Suan Teck Kin, an economist at United Overseas Bank Ltd. in Singapore. "In a way, it's to avoid some kind of Lehman moment for China."
Rights in the troubled trust product, which was issued by China Credit Trust Co., can be sold to unidentified buyers at a price equal to the value of the principal invested, according to one investor who cited an offer presented by Industrial & Commercial Bank of China Ltd. yesterday. ICBC, China's biggest lender, distributed the trust, which matures Jan. 31.
LGFV Debt
The threat of a default spurred concern credit markets would tighten, triggering further failures in products including local-government debt. The amount owed by companies set up by municipalities swelled to 17.9 trillion yuan as of June 30 from 10.7 trillion yuan at the end of 2010, National Audit Office data show.
"The bailout of the trust product has helped ease investors' anxiety," said Li Qing, a Shanghai-based bond analyst at Guotai Junan Securities Co., the nation's second-biggest brokerage. "The news is good for all high-yield bonds, including LGFVs. The positive sentiment may last until the next repayment problem arises."
Since 2012, more than 20 trust products totaling 23.8 billion yuan have run into payment issues, according to Wang Tao, a Hong Kong-based economist at UBS AG. About half of these cases are still in legal process, the bank said in a report this week. Assets managed by China's 67 trusts soared 60 percent to $1.67 trillion in the 12 months ended September, according to the China Trustee Association.
Slower Growth
Premier Li Keqiang is trying to trim unprecedented borrowings in China, whose economic growth slowed in the fourth quarter to 7.7 percent from 7.8 percent in the previous three months, without sparking a financial panic. Local-government financing units must repay a record 299.5 billion yuan of bonds this year, 56 percent more than in 2013, according to Everbright Securities Co.
The rate on 2015 yuan bonds of Wuhan Urban Construction Investment & Development Corp., a local-government financing vehicle in the capital of the central Hubei province, fell three basis points yesterday to 7.37 percent, the lowest since Nov. 18. The yield on 2020 notes sold by Lishui City Construction Investment Co., a funding unit based in the eastern province of Zhejiang, declined one basis point to 7.38 percent.
"If a private company's insolvency is aided by government-backed entities, I can't imagine the government will allow any of its guaranteed companies to default," Yang Feng, a Beijing-based analyst at Citic Securities Co., said yesterday.
— With assistance by Lilian Karunungan, Fion Li, and Judy Chen
Before it's here, it's on the Bloomberg Terminal.
LEARN MORE