Why Don't More Small Businesses Get SBA Help Selling Abroad?
by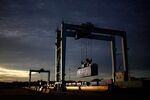 Small business exporting has gotten plenty of attention since President Obama set the goal of doubling U.S. foreign sales in his 2010 State of the Union address. Despite the interest in helping more small companies sell abroad, only a small share of such businesses actually export, according to a report last week (PDF) from the Congressional Research Service.
A few highlights:
 
• Only 177,948 companies with fewer than 500 workers exported in 2011, according to the CRS. That's up from 174,652 in 2010 but still a tiny percent of U.S. small businesses. (About 1 percent of all small businesses export, according to oft-cited Census data.)
 
• An even smaller percentage of small businesses used loans backed by the Small Business Administration for selling overseas. The SBA approved 1,586 export-related loans for $1.2 billion in the year ended September 2013, up from 1,478 loans for $927 million the previous year.
 
• Among small business owners who sought advice from three SBA partner organizations (Small Business Development Centers, Women's Business Centers, and Score), only 4 percent got help with international trade.
About half of businesses that don't export surveyed by the National Small Business Association last year said the biggest impediment was not knowing where to start. Republican lawmakers have pushed legislation that would streamline federal programs to promote foreign trade. The SBA's Office of Advocacy has argued that better access to working capital loans would fuel exports.
Before it's here, it's on the Bloomberg Terminal.
LEARN MORE