Tom Perkins on Bloomberg TV: 'I Don't Regret the Message'
By
A few minutes ago, venture capitalist Tom Perkins appeared on Bloomberg Television to address the national outrage over his letter comparing criticism of the rich to Kristallnacht in 1930s Nazi Germany. Perkins's appearance was painful to watch.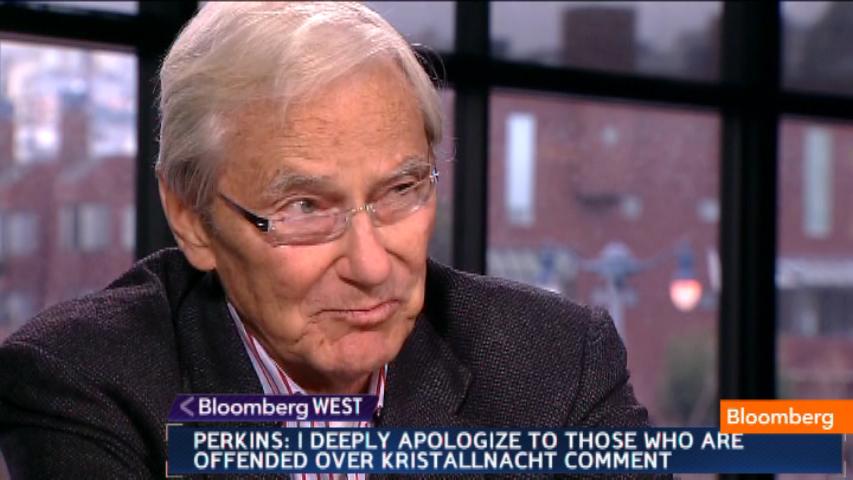 After solemnly explaining that he'd spoken to Abe Foxman of the Anti-Defamation League, Perkins drew an odd distinction, disavowing his use of the word Kristallnacht, but apparently not the broader Nazi comparison.
Then he embarked on a rambling discourse that essentially reiterated the very comments that ignited the furor. A few points he made:
• His analogy wasn't that far off: "Jews were only one percent of German population, yet Hitler was able to demonize the Jews."
• It's absurd to demonize the rich: "It's absurd to demonize the rich for doing what the rich do and getting richer by creating opportunities for others."
• That what prompted his letter was criticism from the San Francisco Chronicle of his ex-wife, the novelist Danielle Steel, for having hedges that were too high.
• That he really doesn't regret much: "The use of the word … was a terrible misjudgment. I don't regret the message."
• He also said something to the effect that his watch was so expensive that it could buy "a six-pack of Rolexes." When Emily Chang, the interviewer, asked him what kind of watch he was wearing, he said that his Rolex comment had been off the record (fact check: on live television, there is no "off the record"); he wears a Richard Mille, he said, noting that it was a gift from the company that made his yacht.
One final point: If you strip out all the weirdness, inappropriate quasi-apologies for the Nazi stuff and listen to the core of what Perkins believes, it's actually the standard-issue Republican platform, which Perkins himself at one point helpfully boiled down to tweet length: "I think the solution is less interference, lower taxes, let the rich do what the rich do."
Before it's here, it's on the Bloomberg Terminal.
LEARN MORE