The Real Payday for JPMorgan's Jamie Dimon
By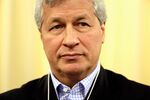 Last week JPMorgan Chase chief Jamie Dimon was awarded a 74 percent increase in compensation, to $20 million, for 2013, a year in which the nation's largest bank set records for the regulatory fines it had to pay.
Apparently that is only part of the picture: The bank's board of directors is expected to decide whether Dimon can separately collect another 2 million stock options that were negotiated in 2008, according to Bloomberg News. Because of JPMorgan's strong stock performance, those options are now worth close to $34 million. As Bloomberg Businessweek's Nick Summers pointed out last week, Dimon is already a substantial bank stockholder, and the performance of JPMorgan's share price is far more relevant to him than whatever salary the board may decide to give him.
The 2008 options grants to Dimon and others at the bank were originally conceived to "further motivate the executives to focus on the firm's long-term success by providing greater ownership opportunity and to reinforce the partnerships that will help produce that success." At the time, the compensation committee left open the question of how many of the 2 million options Dimon would be permitted to exercise, which would be based on how pleased the board was with his performance.
The deadline for the board to make a determination arrived last year, but the bank was still dealing with the $6.2 billion London Whale trading loss, among other problems—the bank agreed to pay $23 billion in regulatory and criminal settlements last year—so it seemed like an inauspicious moment to issue a green light on the options. But rather than reduce the award, or say no to it altogether, the board put the decision off until July 2014, seemingly to await a friendlier climate. The bank's board of directors is apparently quite happy with Dimon's performance, and mentioned the strong share price and the steps Dimon has taken to resolve the bank's regulatory issues as part of the reason for raising his salary.
Meanwhile, over in Davos, Mark Carney, the respected governor of the Bank of England, told a group of finance executives that bankers' conduct was now the biggest risk to the industry rather than anything capital-related. During a private meeting with executives from UBS, HSBC, and Deutsche Bank, among others, Carney urged them to moderate their compensation for their own sake as much as everyone else's. He was likely referring to their boards of directors as well.
Before it's here, it's on the Bloomberg Terminal.
LEARN MORE