Tata Motors' Troubles Go Well Beyond Top Exec's Shocking Death
By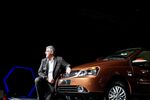 India's biggest automaker suffered a major loss on Sunday with the death of Managing Director Karl Slym, head of Tata Motors' domestic operations. He fell to his death at the Shangri-La Hotel in Bangkok, where he was attending a company meeting, and police are investigating the case as an apparent suicide.
The death of Slym, who was 51, comes at a time when Tata Motors is struggling to reverse a slide in India. Sales at home plunged 42 percent in December and dropped 31 percent for the year, the company announced on Jan. 3. Overseas performance slumped, too, although foreign markets weren't as weak as domestic sales. Tata Motors exports fell 27 percent in December and 8 percent for all of 2013.
There wasn't much Slym, a General Motors veteran who joined the Indian company in 2012, could do about the biggest problem Tata Motors faces: the sorry state of the Indian economy. The central bank and government have been waging a long fight against inflation, with little to show for it, and consumer prices jumped more than 11 percent in November. Since taking over in September, Reserve Bank of India Governor Raghuram Rajan has raised the benchmark interest rate 50 basis points, to 7.75 percent.
While inflation is still galloping ahead, the accompanying high interest rates have hurt demand for autos. "Car sales have cracked," Dipen Sheth, head of institutional research at HDFC Securities, told Bloomberg News earlier this month after Tata Motors reported its latest batch of underwhelming sales numbers. Added Ronak Sarda, an analyst at Emkay Global Financial Services: "Tata Motors is not generating anything positive in India."
And there's little reason to be optimistic about a breakthrough soon. "Going ahead, we expect headwinds in Tata Motors standalone business to continue in the near term due," Mumbai-based Angel Broking analyst Yaresh Kothari wrote in a report published Jan. 16, with India's weak macroeconomic environment continuing to put downward pressure on sales.
Tata executives must be especially disappointed by the sorry performance of what was supposed to be their star, the Nano, which was launched in 2008 as the world's cheapest car (priced at less than $3,000). A favorite of Ratan Tata, who retired as Tata Group chairman in 2012, the Nano Tata was going to put India on the map as an innovator in design for customers at the bottom of the pyramid. Around the time of the car's launch, this magazine hailed the creation and design of the Nano as a tale of "innovation and ingenuity."
Unfortunately for Tata, not many lower-income Indians were interested in buying an innovative and ingenious car if it was shaped like an egg and had an unfortunate track record of bursting into flames. Sales of the tiny car cratered.
The Nano hasn't lived up to expectations at home, but it does have a fan in Hamid Karzai. Tata Motors should make Afghanistan a priority, according to the Afghan president. "Tata would do very well with the Nano, its motorbikes, and other brands," he said last month during a visit to the Indian city of Pune.
Slym, who came to Tata well after the Nano was already a flop, wasn't responsible for the car's failures but seemed keen on salvaging the People's Car. Slym told Bloomberg about plans for new versions of the Nano last February. More recently, he said reception for the new hatchback, the Nano Twist, was "euphoric."
Maybe there are suddenly Nano enthusiasts out there, but for now the only good news for Tata Motors is coming from the part of the company not even under Slym's direction—the Jaguar Land Rover division. The luxury vehicle business acquired from Ford in 2008 for $2.5 billion enjoyed a banner year in 2013, with sales increasing 19 percent to a record 425,000 vehicles, the company announced on Jan. 12. And Jaguar Land Rover is expanding. In early December, the division inked a deal for a $392 million factory in Brazil that on scheduled completion in 2016 will have annual production capacity of 24,000 cars. With the India business slumping, Tata Motors will need to keep selling more of those Jaguars and Land Rovers.