Rupiah to Rally on Election as Inflation Slows, Gunawan Says
Novrida Manurung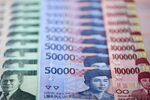 The rupiah will strengthen in the second half of this year as Indonesia's next government will probably be more adept at handling the economy, the country's top economic forecaster said.
The rupiah, Asia's worst-performing currency last year, will average 11,600 per dollar in 2014 and rally to 11,000 by the end of the year, Bank Danamon Chief Economist Anton Gunawan said in Jakarta on Jan. 24. This forecast assumes Jakarta Governor Joko Widodo, who has topped recent opinion polls, will be selected as the Indonesian Democratic Party of Struggle's (PDI-P) presidential candidate for the July vote.
Gunawan, the best overall forecaster for the Indonesian economy in two years through 2013 according to a Bloomberg Rankings analysis of estimates, has more positive views on the currency and economic growth than median estimates in Bloomberg surveys. Indonesian markets are under pressure as the Federal Reserve cuts stimulus that has buoyed emerging-market assets.
"We see that the rupiah will remain volatile in the first half and it will start to strengthen in the second half after the election," Gunawan said in an interview. "Indonesia needs a new president that has good leadership to bring back investors' confidence."
The rupiah, which lost 21 percent last year, fell 0.5 percent to 12,246 per dollar today as of 11:52 a.m. in Jakarta according to prices from local banks. The currency is expected to end the year at 12,200 per dollar, according to a Bloomberg survey of forecasters, because of concern over Indonesia's current-account deficit, persistently high inflation and slowing economic growth.
Bank Liquidity
Bank Indonesia, which held its key rate in January after raising it 1.75 percentage points since early June, may limit increases to a further 25 basis points this year, possibly in March, to help the rupiah, Gunawan said. That would be less than Bank Danamon's previous estimate for 50 basis points of increases in 2014.
"We hope Bank Indonesia won't raise rates again very aggressively this year," Gunawan said. "We're concerned about banks' liquidity, especially at small banks."
Gunawan, who was a runner-up for the central bank's number two role last year, sees little pressure for rate increases from inflation, which he expects to ease to 5.5 percent this year. The consumer price index in December rose 8.4 percent year-on-year, and may gain almost 1 percent in January month-on month after floods, Senior Deputy Governor Mirza Adityaswara said on Jan. 24.
Current Account
Gunawan said there is a downside risk that gross domestic product growth in 2014 will slow to 5.6 percent, which compares with a median forecast for 5.44 percent in a Bloomberg survey of economists. A weaker economy would help reduce the current-account shortfall to 2.9 percent of GDP this year and 2.4 percent next year, Gunawan said.
President Susilo Bambang Yudhoyono, who is unable to run again after his second term ends this year, is trying to narrow a current-account gap that widened to a record 4.4 percent of gross domestic product in the second quarter last year. His government was slow to debate and implement policies such as a fuel price increase and mineral ore export ban, Gunawan said.
Bloomberg Rankings rated economists on their estimates for gross domestic product, consumer price index, trade balance, exports and imports. Only economists who provided a minimum number of forecasts over the period were included in the ranking.
"For a country like Indonesia, which has a current-account gap of about 3 percent of GDP, a budget deficit at about 2 percent, a debt-to-GDP ratio below 30 percent of GDP, that's not bad if we compare with other countries," Gunawan said. "But foreign investors have overreacted on this situation."
Before it's here, it's on the Bloomberg Terminal.
LEARN MORE