Rock of Ages, Wholesale
by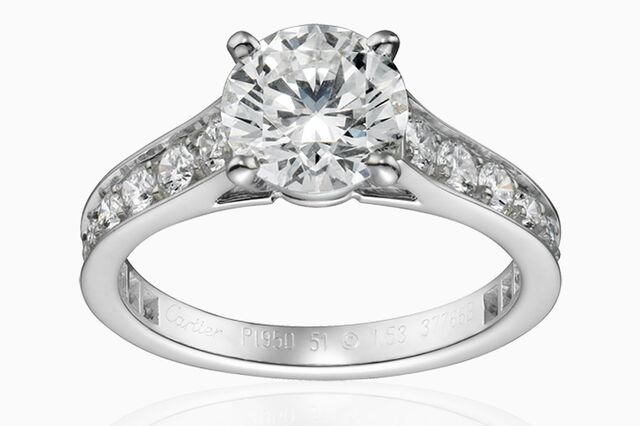 That $4,000 you just plunked down for her engagement ring? That's good for $3,000-something the second she says yes. (If she says yes. If she doesn't, you've got bigger problems.) To paraphrase Carly Simon, de-pre-cia-tion.
"When you buy a diamond at a retail level, especially from an elegant, high-end retailer, you're not just paying for the diamond," says Reuven Kaufman, president of the Diamond Dealers Club of New York and founder of Reuven Kaufman Inc . "You're paying for the whole ambiance that surrounds the diamond -- the rent for the store, the marketing, the glitz."
And, in general, for the security of knowing what you're getting. Kaufman has a wholesaler's point of view. But he has a point, too. What the wholesale market lacks in glamour it makes up in savings.
A 2011 report on the diamond industry by Bain & Company, commissioned by the Antwerp World Diamond Centre , calculated the average markup between jewelry manufacturer sales and retail sales at 25.2 percent. That means "you can't buy an investment in retail and sell it in wholesale," says Martin Rapaport , chairman of Rapaport Group, which includes a company that sells about 50,000 carats of used diamonds a month through its own auctions . "Who are you going to resell the diamond to? You're not going to open up your own store to sell it back," he says. "You're going to sell it wholesale, and that's a different market."
Diamonds can be an investment. It's not so hard to buy wholesale -- there are some 2,600 businesses in New York's Diamond District that offer just that. And there are different grades of diamond you can buy.
"An investment diamond is what's called 'gem quality,' " says Kaufman. "You put it in a safe and you know you can trade it for money later on." The lower tier of diamond was historically geared to the American bridal market and wasn't considered worth investing in. "It's slightly imperfect," he says. "Near-white and completely eye-clean," meaning the diamond looks dazzling to the naked eye but might have tiny flaws visible under magnification.
In the past few years, this medium-quality diamond's popularity has increased. "There are major macro-economic forces that affect diamond prices," says Rapaport. He and Kaufman cite the growing Chinese and Indian middle class. "They're beginning to buy the American diamond," Kaufman says, "so the bridal stone has risen in value quicker than ever before, because the whole world is chasing the same diamond."
So, how much would you lose if you guys split up?
"Hard to say," says Rapaport. "If you tried to resell a diamond after one year, you'd probably lose 10 to 20 percent of what you paid, but if you held on to it for a longer period of time, you might have better luck." Kaufman says your best bet is to sell the diamond back to the retailer. "The jeweler has an interest in keeping you as a client," he says.
Harry Winston 's policy is to "work with each client individually if they decide they would like to upgrade or sell their diamond." Cartier buys only pieces predating 1965. Tiffany and Bulgari don't do buybacks.
You should be all right. It isn't a hangout. It's a marriage.
Before it's here, it's on the Bloomberg Terminal.
LEARN MORE