pursuits
Prices for Super Bowl Cheap Seats Are Falling Fast
By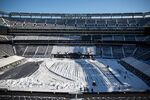 This Sunday's Super Bowl at MetLife Stadium in New Jersey has been a conundrum for ticket brokers. The game is taking place in the largest market in the U.S., and the NFL is more popular than ever, yet this is the first outdoor Super Bowl in a cold-weather city. With the forecast calling for temperatures near freezing, the ticket resale market turned decidedly bearish this past weekend—at least at the bottom end.
According to ticket search engine SeatGeek, the average sale price on Saturday and Sunday was $2,056, down 40 percent from a week ago—a more precipitous drop than the normal decline in the two weeks before the big game. The last three Super Bowls have had higher average prices during the same time frame: $2,512 last year in New Orleans, $3,127 in 2012 in Indianapolis, and $3,513 in 2011 in Arlington, Tex.
SeatGeek anticipates that Sunday's game could be the cheapest since 2002, when security risks after the Sept. 11 terrorist attacks depressed the market. The number of available tickets to see the Seattle Seahawks play the Denver Broncos in New Jersey has more than doubled since last week to about 18,000, although how many of those listings are backed by an actual ticket is open to question.
The cheapest seats are seeing the steepest fall in price. The "get-in" price for the least expensive ticket is now down to $1,150 from $2,100 a week ago, while club seats, which come with access to a heated concourse, are holding steady in the $6,000-to-$7,000 range. Buyers who can afford to spend thousands to see a football game, it appears, would rather not sit in the cold for three hours. This squares with what the brokers at Inside Sports & Entertainment Group have been seeing: Demand for the luxury packages they sell, says co-founder Ety Rybak, has held strong, while few people are interested in upper deck seats.
Only the die-hard fans, Rybak guesses, will be seated in the back rows. If those fans hold out long enough, they might get in for less than face value.
Before it's here, it's on the Bloomberg Terminal.
LEARN MORE