Mexico Captures Knights Templar Leader Hiding in Closet
Nacha Cattan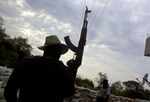 Mexico arrested a leader of the Knights Templar cartel in Michoacan and agreed to incorporate vigilantes fighting the drug gang in the western state into a special police force.
Dionicio Loya Plancarte, known as El Tio, was found by the army and federal agents hiding in a closet yesterday, the Interior Ministry said in a statement. The government had offered a 30 million-peso ($2.24 million) reward for his capture. Hours later, the government said it signed an agreement with vigilantes fighting the cartel to allow them to register their arms and form a temporary rural police brigade.
President Enrique Pena Nieto deployed the army to Michoacan this month after armed vigilantes stripped police officers of their weapons in more than a dozen towns, accusing them of links to drug gangs that have been extorting citizens for years. After initially clashing with the so-called self-defense groups, the army took over duties from local police and began arresting cartel leaders in the state in efforts to improve security. The vigilantes had demanded top cartel leaders be caught before they would consider disarming.
"This is an important capture," Jorge Chabat, a security analyst at the Center for Economic Research and Teaching, a Mexico City-based university, said by telephone. "This will contribute to strengthening the image of the government as one that is attacking this criminal group. But there are still many leaders who work for this organization and it won't be easy to capture all of them so quickly."
Second-in-Command
Loya Plancarte is alleged to be the second-in-command of the Knights Templar, after Servando Gomez, known as El Tuta, according to a press official in the Attorney General's Office, who asked not to be named as government policy prohibits it.
The vigilantes can eventually become members of the municipal police once their names are registered and they've completed requirements to enter the force, the Interior Ministry said in an e-mailed statement.
Alejandro Hope, a former government intelligence officer and now a security analyst at the Mexican Competitiveness Institute, said incorporating vigilantes into a temporary police force "isn't a bad idea."
However, allowing them to become part of the permanent municipal police without background checks and other quality controls will only perpetuate corrupt practices in the state, Hope said in a telephone interview.
Before it's here, it's on the Bloomberg Terminal.
LEARN MORE