Get Ready for a Wild Week on Wall Street
By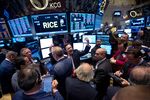 So far 2014 has reminded investors that the stock market can move in directions other than up. After surging through all of 2013—right past potential pitfalls such as the government shutdown and debt-ceiling deadline—with a 32.4 percent total return, the Standard & Poor's 500-stock index has started the year with a loss of more than 3 percent. Indexes around the world have also fared badly: Japan's Nikkei is down 7.9 percent, and the MSCI Emerging Markets index has suffered a loss of 5.3 percent.
This week figures to be a volatile one. With the global elite gathered at the World Economic Forum in Davos, Switzerland, many are predicting yet more gains from stocks. "The bull market will continue; we've actually turned the corner," Aliko Dangote, Africa's richest person, told Bloomberg News Jan. 22. "Things are improving in all sectors: in banking, in vehicle manufacturing, almost all the sectors. And I think we've left the bad past behind."
Others are more pessimistic. "The experience of the marketplace this past week"—i.e., losses—"is going to be indicative of this entire year," Larry Fink, the chief executive officer of BlackRock, said at a Davos panel. "We're going to be in a world of much greater volatility."
Continuing last week's selloff, the Nikkei index fell 2.5 percent on Monday, along with losses in every other major Asian stock index except Laos's Lao Securities Exchange.
The week ahead is a big one for major events and data releases that drive the market. The most significant is the two-day meeting of the Federal Reserve, after which the U.S. central bank will announce any modifications to its $75 billion-per-month economic stimulus program. That follows data on new home sales, out Monday, and consumer confidence figures on Jan. 28. The first estimate of fourth-quarter gross domestic product hits Jan. 30, with 82 economists surveyed by Bloomberg predicting an average increase of 3.2 percent.
As a Goldman Sachs research note points out, this week is also the biggest of the quarter for corporate earnings, with 130 companies—making up 34 percent of the S&P 500 by market cap—reporting their results. Apple announces its numbers Monday, followed by Exxon Mobil, Google, Yahoo!, Pfizer, AT&T, and other heavyweights.
Wall Street's volatility index has shot up this month, as this chart shows:

While it looks like a big increase, the so-called fear index is still below its level in October, when Congress threatened to default on the nation's debt and send the global economy into chaos.
Before it's here, it's on the Bloomberg Terminal.
LEARN MORE