Uniqlo Owner to List Hong Kong Receipts Without New Shares
Yuki Yamaguchi and Marco Lui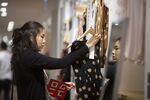 Uniqlo owner Fast Retailing Co., the Japanese clothing company on an overseas expansion drive, plans to list depositary receipts in Hong Kong to help promote its brand to investors and customers in the region.
Fast Retailing doesn't plan to sell new shares or raise funds through the listing, it said in a statement. The receipts will trade on Hong Kong's stock exchange on March 5, it said.
President Tadashi Yanai has invested in building the business overseas, expanding in the U.S., China and Indonesia and hiring executives from Wal-Mart Stores Inc., Esprit Holdings Ltd., Express Inc. and Juicy Couture. Profit in the three months through November rose 8.8 percent, beating analyst estimates, as Uniqlo sales overseas surged 77 percent, more than 40 times its growth rate in Japan.
"The China region is growing, so this makes sense for the company," Naoki Fujiwara, Tokyo-based chief fund manager at Shinkin Asset Management Co., said by phone. "Their investor relations activities and disclosures will be more vigorous."
Fast Retailing's stock almost doubled in value in Tokyo trading last year, beating the 51 percent climb of the broader Topix index. The shares fell 1.6 percent to close at 37,600 yen in Tokyo trading.
No. 1 Goal
Yanai, Japan's richest person, has ambitions for Fast Retailing to overtake Zara owner Inditex SA and become the world's top clothing retailer. He has opened stores in New York, Paris, Shanghai and Jakarta, more than quadrupling overseas sales in the five financial years through August 2013.
"We expect high growth in the Asia region," Chief Financial Officer Takeshi Okazaki told reporters today in Tokyo. "Hong Kong is the financial center for the Asia market."
Fast Retailing has said it plans to open 200 to 300 outlets overseas annually and aims to open its first stores in Australia and Germany this year. The retailer targets opening between 20 and 30 stores a year in the U.S. and hopes to reach 100 stores there in the next few years, Yanai said last year.
The company is also adding stores in China and Indonesia as it bets on global expansion to boost sales to 5 trillion yen by 2020. Its brands include Comptoir des Cotonniers, GU, Helmut Lang, J Brand, Princesse tam.tam, Theory and Uniqlo.
The clothier surged 99 percent last year in Tokyo trading, boosting the company's market value to 4.6 trillion yen as of Dec. 30, compared with 2.3 trillion yen a year earlier.
The plan to sell depositary receipts in Hong Kong is subject to regulatory approval.
Listing shares in other markets is "a possibility," Okazaki said today. There is no specific plan for such a listing, he said.
Before it's here, it's on the Bloomberg Terminal.
LEARN MORE