Bitcoin Crime Risk Sparks Warning at Top Nordic Forex Bank
Niklas Magnusson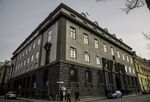 SEB AB, the largest Nordic foreign currency trader, is rejecting requests from clients seeking to set up accounts to manage Bitcoin amid concern the software could be used to aid crime.
The Stockholm-based bank has for now decided not to touch Bitcoin because of the "large uncertainties" relating to its status, Johan Andersson, chief risk officer at SEB, said in an e-mailed response to questions.
"Given the rules we have established for ourselves and rules that authorities have set up to prevent money laundering, we have currently made the decision that we cannot offer transactions, accounts or currency exchange in Bitcoin," he said.
The comments come as Bitcoin Foundation Vice Chairman Charlie Shrem was charged by the U.S. Attorney Preet Bharara for allegedly attempting to sell Bitcoins to narcotics traffickers. Both Sweden's government and the European Banking Authority have warned of the risks associated with Bitcoin as a potential vehicle for money laundering.
Scandinavian regulators, which set some of the world's strictest banking standards, have been united in airing their skepticism toward Bitcoin and its competitors. No authority in the region recognizes Bitcoin as a form of money. Yet as consumers and businesses continue using the virtual payment system, Scandinavia's biggest banks are now starting to react.
Requests Declined
"We have received requests from companies that want to open accounts to manage Bitcoin," and "we have so far declined," Andersson said. "When we make decisions regarding corporate customers, we need to understand the business, there needs to be a sustainable business plan and routines for following money laundering rules."
SEB isn't alone in sounding the alarm. Nordea Bank AB, Scandinavia's biggest bank, is warning clients to think twice before touching Bitcoin.
The bank doesn't engage in transactions or services involving Bitcoin and is "advising its customers of the risks connected to Bitcoin," said Erik Durhan, a spokesman for Nordea. "It is an experimental digital currency" that "is not subject to regulation and monitoring like traditional payment systems."
Regulatory Race
Since its 2008 creation, Bitcoin has challenged regulators and legislators, who are struggling to keep up as people use the software to pay for everything from university tuition to cups of coffee to senate campaign donations in the U.S.
Sweden's government has warned that Bitcoin could lend itself to money laundering or even to financing terrorism. The nation's tax authority is set to reject Bitcoin as a currency and instead treat it as art.
Across the Nordic region, where stable AAA governments have been at the forefront in designing regulation to protect banks from future crises, authorities are now among the first to take a stand on Bitcoin. In Norway, the tax department has decided to label it a taxable asset. Finland plans to treat it as a commodity while Danish regulators are drafting a proposal for lawmakers in an effort to protect consumers and businesses.
Ponzi Scheme
Still, Nordic regulators agree they can't stop people using Bitcoin. Denmark's Financial Supervisory Authority says the spread of digital currencies is inevitable and regulators need to race to ensure they're ready.
"Virtual currencies are one of many different innovations and the Riksbank generally welcomes innovations that can make the payment system both safer and more efficient and meet new needs that may arise over time," Bjoern Segendorff, an adviser at the Swedish central bank's department for financial stability, said in a phone interview. "There are of course risks that we need to evaluate on a case-to-case basis."
In the Baltic region, where Sweden's banks dominate the lending market, authorities are also issuing Bitcoin warnings.
"Virtual currency schemes are an innovation that deserves to be treated with some caution," Mihkel Nommela, head of the Estonian central bank's payment and settlement systems department, said in an e-mailed reply to questions. Ultimately, there are no "guarantees that this isn't just a Ponzi scheme," he said.
Baltic Banks
At Swedbank AB, the largest bank in the Baltic countries, there are so far "no general restrictions for companies dealing with Bitcoin to opening an account in the bank," said Anna Sundblad, a spokeswoman for the bank. Still, Swedbank sees "risks attached to this, not least as regards money laundering, and therefore we evaluate every business proposal very carefully" and "are following developments closely in order to reconsider the decision or take action if needed."
Svenska Handelsbanken AB, Europe's best-capitalized bank, says it will treat Bitcoin like any other product.
"The local Handelsbanken branch always makes a commercial evaluation of the companies that want to become customers," said Henrik Westman, a spokesman for the lender. The bank is open to new operations provided they "follow the existing rules and regulation," Westman said.
This month Sweden's biggest Bitcoin exchange, Kapiton, was reported to the police and the National Board for Consumer Disputes after a number of users alleged their money had disappeared.
Bitcoins Disappeared
Kapiton's founder -- referred to on the website only as Sebastian -- published a statement on Jan. 18 apologizing for "recent problems" and assuring users that no client assets had disappeared. The site is working to match orders with accounts, Sebastian said.
Two men tied to the illicit online market Silk Road, including Bitcoin Foundation's Shrem, were charged yesterday in a complaint filed in Manhattan federal court.
Shrem, chief executive of a Bitcoin exchange, "personally bought drugs" on the Silk Road site, according to the complaint. Arrested Jan. 26 at John F. Kennedy International Airport, Shrem was "fully aware" Silk Road was a venue for drug trafficking, prosecutors said. Earlier this month, about 29,600 Bitcoins were seized from Silk Road, an online market that sold drugs and hacking services, Bharara said.
Bitcoin's price has fluctuated according to the newsflow around its safety and popularity. It topped $1,000 for the first time in November, as speculators anticipated broader use of digital money. The price has since dropped to about $760 on Bitstamp, one of the more active online exchanges where Bitcoins are traded for dollars and other currencies. One Bitcoin cost about $15 a year ago.
Bitcoin enthusiasts say they are building a system to move money across the Internet securely and at a lower cost than existing wire transfers, bank debits or remittances.
Satoshi Nakamoto
Bitcoin was introduced in 2008 by a programmer, or group of programmers, known as Satoshi Nakamoto. There are 21 million possible Bitcoins available that can be mined by a peer-to-peer network harnessing computers to complete complicated mathematical calculations. About 12.2 million units are currently in circulation, according to Bitcoincharts.com.
Segendorff at Sweden's central bank said Bitcoin will probably need to become part of the regulatory framework if its popularity continues to grow.
"Personally, I believe that any unregulated virtual currency that eventually starts being used a lot cannot remain unregulated," he said.
Before it's here, it's on the Bloomberg Terminal.
LEARN MORE