Knot Says No Immediate ECB Action Needed as Market Rates Studied
Jana Randow and Corina Ruhe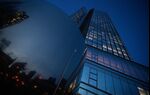 European Central Bank Governing Council member Klaas Knot said he doesn't see any immediate need to cut official interest rates or offer more liquidity to counter a jump in money-market rates.
"Why we are still seeing volatility is a bit of a puzzle for me because there needs to be a distortion somewhere in the market," Knot said in an interview yesterday at the World Economic Forum in Davos, Switzerland. "I don't have a conclusive answer, I don't think anybody has. I would argue we would need to understand the drivers better before we could come to a conclusion this would warrant policy action."
Banks including Barclays Plc, Royal Bank of Canada and Commerzbank AG predict the ECB will cut rates soon amid concern that the rise in market borrowing costs threatens the euro area's recovery. At the same time, economic data is signaling that the ECB's current record-low rates, abundant central-bank liquidity and government reforms may be sufficient to foster growth in the 18-nation currency bloc.
"It would need an adverse shock for further action to be taken -- at this moment I don't see such a development," said Knot, 46, who is also president of the Dutch central bank. While market volatility "is definitely something that warrants close monitoring," economic data have, if anything, "surprised on the upside recently," he said.
Borrowing Costs
The cost of overnight unsecured lending among banks rose as high as 0.36 percent on Jan. 20 from less than 0.1 percent two weeks earlier, boosting speculation that ECB policy makers will react when they next convene on Feb. 6. The rate fell to 0.19 percent yesterday. ECB President Mario Draghi said in Davos today that the central bank is prepared to counter any unwarranted tightening in short-term money-market rates.
"We distinguish between the monetary stance and the monetary transmission process," Knot said. "If this were to become an issue of the monetary stance, then obviously conventional policy would be the response. If a need was felt to respond, then it would be logical to contemplate further rate cuts in the main refinancing operations and, in that case, also the deposit rate."
Rate Forecasts
The ECB cut its benchmark rate a quarter point to 0.25 percent in November and kept the deposit rate at zero. The key rate will fall to 0.1 percent and the deposit rate to minus 0.1 percent in February or March, Barclays forecast on Jan. 23. Commerzbank predicts the same action in March, and RBC says the main rate will be reduced while the deposit rate stays at zero. Alessandro Giansanti, a rates strategist at ING Bank NV in Amsterdam, says the benchmark will be cut within three months.
Policy makers have discussed a negative deposit rate for two years without taking action. Some officials have expressed concern that the effects of charging banks for keeping excess cash at the ECB are unclear and may disrupt markets as lenders struggle to pass the cost onto customers.
Another option would be to drive down market rates by boosting liquidity with very long-term loans to banks, or VLTROs. The ECB injected more than one trillion euros ($1.4 trillion) of three-year loans in 2011 and 2012 during the credit crunch.
Increased Confidence
As institutions repay the money early, excess liquidity, or the surplus cash that isn't immediately needed by banks to meet their obligations, has dropped to 161 billion euros from 813 billion euros two years ago. Falling liquidity can push overnight borrowing costs higher as banks compete for tighter funding, which can spill over into lending rates to the real economy.
More long-term loans may not be necessary as one explanation for shrinking liquidity is that confidence in banks is returning, according to Knot. A balance-sheet review by the ECB intended to clean up the financial sector before it becomes the euro-area bank supervisor may be prompting institutions to repay the emergency loans because they no longer need them.
Surveys of executives and investors point to an improvement in the euro-area economy. Manufacturing is accelerating at the strongest pace in more than 2 1/2 years and economic confidence is at the highest level since July 2011.
"As of today, I don't think funding stress is so acute that something like a VLTRO is on the radar screen," Knot said.
Inflation Expectations
Other choices include removing the ECB's requirement for financial institutions to hold deposits at their national central banks, and stopping the sterilization of government bond purchases conducted under the now-terminated Securities Markets Program. While the latter option risks accusations that the ECB is stepping into state financing, which it is barred from doing under European law, Knot said it can't be excluded.
"It is one of the options," he said. "There are clearly also drawbacks to that option such as the public perception around sterilizing the SMP purchases."
Knot played down any concern that subdued inflation in the euro area will turn into broadly falling prices that could also derail the economy. Inflation in the currency bloc slid as low as 0.7 percent in October and Knot said it will probably stay below 1 percent until May or June, compared with the ECB's medium-term goal of just under 2 percent.
"There is too much emphasis on the monthly inflation readings," Knot said. "Our mandate is about inflation expectations, about price stability in the medium term. Inflation expectations are solidly anchored. At the current conjunction there is obviously a non-zero risk of deflation, but I'm not very worried about it."
Before it's here, it's on the Bloomberg Terminal.
LEARN MORE