Witness Says SAC's Steve Cohen Was the Real Target
by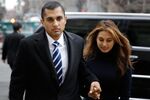 Occasionally a moment comes in a criminal trial when the curtains are lifted slightly, and the complex machinery of the justice system can be glimpsed behind them, in all its grotesqueness and glory. Such a moment occurred in a Manhattan courtroom yesterday where former SAC Capital portfolio manager Mathew Martoma is fighting for his freedom.
Dr. Sidney Gilman, the key witness in the government's insider trading case against Martoma, was on the stand, trying to recall the first time two agents from the Federal Bureau of Investigation approached him about cooperating with them in their case against Martoma. One agent, B.J. Kang, did most of the talking, Gilman, 81, said. He described how Kang and his partner came looking for him at his house in Ann Arbor, Mich., on Aug. 30, 2011, waited for an hour with his wife, and then gave up and left. They resumed their search for him the following day, tailing Gilman to his office at the University of Michigan and rapping on his car window.
Richard Strassberg, Martoma's lead defense lawyer from Goodwin Procter, was questioning Gilman. He was trying to establish that the FBI had come to talk only about Martoma that day, though Gilman had many hedge fund-consulting clients. But before the cross-examination could move on, Gilman interrupted and insisted that he return to an earlier question, in spite of Strassberg's attempts to stop him from doing so.
"The agent also mentioned something else," Gilman finally said. "He said that I am only a grain of sand, as is Mr. Martoma, and that they are really after a man named Steven A. Cohen."
It might have been the first official confirmation of something that close watchers of the case have long suspected: that Cohen was the target of the government's investigation all along, rather than the traders and portfolio managers who worked for him.
Cohen has not been charged criminally with any wrongdoing. His firm, SAC, pleaded guilty to securities fraud. The U.S. Securities and Exchange Commission filed a civil case against Cohen accusing him of failing to supervise Martoma and other employees, which has not yet been resolved. Martoma is on trial for insider trading in two drug stocks, Elan and Wyeth, in what the government describes as the largest insider trading case ever, with $275 million in illegal gains and avoided losses.
The case against Martoma rests largely on Gilman, who despite his age and apparent fragility has displayed a notable feistiness on the stand as Strassberg has tried to portray him as a person with an unreliable memory. At one point, as Strassberg tried to emphasize the fact that Gilman has been given full immunity from prosecution in exchange for his testimony, and that he might be motivated by that fact to tell the prosecutors what they want to hear, Gilman said: "If I tell a lie here, the non-prosecution agreement is null and void."
It seemed as if he'd had that "grain of sand" anecdote bottled up for a long time.
Before it's here, it's on the Bloomberg Terminal.
LEARN MORE