business
With a Shortage of STEM Graduates, Accenture Hopes to Grab Them Early
Ira Sager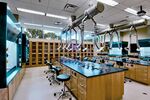 "Economic projections point to a need for approximately 1 million more STEM professionals than the U.S. will produce at the current rate over the next decade. … Currently the United States graduates about 300,000 bachelor and associate degrees in STEM fields annually. Fewer than 40% of students who enter college intending to major in a STEM field complete a STEM degree."
— a 2012 report by President Obama's Council of Advisors on Science and Technology
The stats above should go a long way toward explaining why Accenture is launching a global mentor program for college students majoring in science, technology, engineering, and mathematics (STEM) subjects. The consultancy, which does a load of algorithmic-dependent work for clients, wants to grab students when they're young, help shape their professional and leadership development, and, obviously, feed its own need for tech talent.
Accenture's Future Technology Leaders program is aimed at first- and second-year undergraduate students, offering them career guidance, networking opportunities, and a senior executive as a mentor. The goal is to have 400 students in the program by year's end, with 1,600 students within four years.
"This is intended to help us attract and hopefully employ students with an interest in STEM," says John Campagnino, managing director of global talent acquisition for Accenture. "We want to build relationships earlier than is traditional and develop that talent early on."
Students accepted into the program (in the U.S. a GPA of at least 3.0 is required), must attend two workshops a year. They'll collaborate on a project with other students in the program from around the world and have a chance to network with students and Accenture managers.
The consultancy is currently working with 35 universities around the world, including Texas A&M, University of California, Berkeley, and University of Maryland in the U.S. International schools include the University of Toronto, University of Newcastle, and the University of Indonesia. So far, the program is available in seven countries. Accenture plans to expand the program to 12 additional countries and more schools by the end of the year.
"We want this to be a major feeder program," says Campagnino.
Before it's here, it's on the Bloomberg Terminal.
LEARN MORE