business
Why Starbucks Worries About Retailers' Dwindling Foot Traffic
By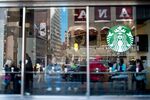 What happens when more consumers shop online? They're less likely to pop into a Starbucks on the way to the mall, and the shift in shopping behavior hits the coffee chain's bottom line.
Starbucks posted global sales of $4.24 billion from October to December, a 12 percent increase that fell short of analysts' projections, and the company put the blame Thursday on the dramatic expansion of online shopping over the holidays as well as weakening consumer confidence. "Holiday 2013 was the first in which many traditional brick and mortar retailers experienced in-store foot traffic give way to online shopping in a major way," Chief Executive Officer Howard Schultz said in a release. Holiday foot traffic was roughly half of what it was three years earlier, according to a report in the Wall Street Journal citing ShopperTrak data.
"December is really where we saw just a little bit of softening in our traffic growth," Starbucks CFO Troy Alstead told Bloomberg News. There has been "an accelerating pace of movement of shoppers moving from bricks and mortars and the malls to online," which means those people weren't taking a break at Starbucks between stores.
Such shifts increase the urgency of the chain's recent efforts to capture e-shoppers with gift card sales via its website, app, Facebook, Twitter, and digital marketing, all of which are designed to keep customers coming through its doors. The company's moves to sell its products in grocery stores also become more important.
Overall, Starbucks enjoyed a positive quarter in the U.S. The number of transactions from October to December rose by 4 percent from a year earlier, helping to expand same-store sales 5 percent. Still, those same-store sales grew slower than the 7 percent gain posted last year.
The shopping shift, of course, goes well beyond Starbucks in its impact. "Any bricks and mortar company that is heavily skewed to the malls will be more susceptible to this new change," said Schultz, noting that his company's mall-based cafes are "a very small component of our overall national footprint."
Before it's here, it's on the Bloomberg Terminal.
LEARN MORE