The Pope Francis Guide to Social Media Etiquette
by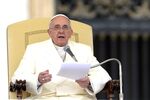 "The Internet, in particular, offers immense possibilities for encounter and solidarity," Pope Francis said in a radio address this week. "This is something truly good, a gift from God." It has been widely reported that the pope believes the Internet is a gift from God. I don't think that's what he's getting at, though. God didn't give us the Internet; God gave us the possibility of encounter and solidarity. Both require work.
Stripped of its theology, the pope's radio address is not about technology, but about human nature. He has offered a canny set of instructions on how to behave on the Internet.
"The speed with which information is communicated exceeds our capacity for reflection and judgment, and this does not make for more balanced and proper forms of expression. … We need, for example, to recover a certain sense of deliberateness and calm. This calls for time and the ability to be silent and to listen."
It has always been a good practice to stop and think before you do something stupid on Twitter.
"The variety of opinions being aired can be seen as helpful, but it also enables people to barricade themselves behind sources of information which only confirm their own wishes and ideas, or political and economic interests. The world of communications can help us either to expand our knowledge or to lose our bearings."
The pope has clearly been reading his Cass Sunstein, who in 2001 was already worried that the Internet enables the "Daily Me" (PDF), a stylized view of the world as you would prefer it to be. If you go on the Internet to confirm what you already know, you're doing it wrong.
"To dialogue means to believe that the 'other' has something worthwhile to say, and to entertain his point of view and perspective. Engaging in dialogue does not mean renouncing our own ideas and traditions, but the claim that they alone are valid or absolute."
The easiest way to defuse an angry e-mail is to respond with sincerity and kindness. Assume that everyone has the country's best interests at heart; try to address one or two points of legitimate disagreement. The pope is telling us to handle trolls with kindness and curiosity.
"Whenever communication is aimed at promoting consumption or manipulating others, we are dealing with a form of violent aggression [like the victim saved by the good Samaritan]. … Media strategies do not ensure beauty, goodness, and truth in communication."
The Vicar of Christ does not approve of spam or social media marketing campaigns. I think I just became a Catholic. But lest I enjoy myself too much with the tossing of stones, he has words for the media, too:
"The impartiality of media is merely an appearance; only those who go out of themselves in their communication can become a true point of reference for others. Personal engagement is the basis of the trustworthiness of a communicator."
It's not completely clear here whether he's talking about Christian witness, journalism, or both. But he's saying what my editors have always reminded me to do: Go talk to people. Sometimes even a member of Congress can surprise you with a candid reflection. Then go talk to more people. Talk, especially, to the people likely to prove you wrong. Why should anyone trust you to help them understand the news if you don't?
"It is not enough to be passersby on the digital highways, simply 'connected'; connections need to grow into true encounters. We cannot live apart, closed in on ourselves. We need to love and be loved. We need tenderness."
This part frightens me a little.
Before it's here, it's on the Bloomberg Terminal.
LEARN MORE