The Latest in B-School Sloganeering: 'Go Beyond'
By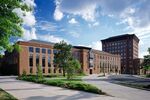 It takes more than a good rep with corporate recruiters to impress prospective MBAs these days. More than a fancy new campus, too. It takes a brand.
Or whatever marketing professors call slogans like this: Northwestern University's Kellogg School of Management has "Think Bravely." Wharton uses "Knowledge for …" in its advertising. And now Ohio State University's Fisher College of Business has "Go Beyond."
As in: A Fisher education will help prospective MBAs go beyond their current level of professional advancement. Or Fisher grads will go beyond the expectations of their new employers. Or perhaps the new brand positioning will help Fisher go beyond its peer group in the next round of business school rankings.
"In any mature industry, and higher education is very mature, there's going to be competition," says Shashi Matta, a marketing professor at Fisher who led the branding project. To help Fisher differentiate itself, Matta enlisted the school's student-run consultancy and conducted interviews with students, faculty members, and alumni.
There's a certain anonymity to what they came up with. Matta says the new message was inspired in part by Fisher grads' reputation for rolling up their sleeves and getting to work, but presumably Wharton students can also (bravely) go beyond. For that matter, the branding exercise is better understoond as an effort to create a tool for telling Fisher's story, not an attempt at a self-portrait.
The new messaging is also aspirational. Customers gravitate toward institutions that live up to their messaging. "You can have a website banner, or a print ad, or brochures," Matta says. "Unless faculty, staff, and students live that brand, it won't mean much."
Before it's here, it's on the Bloomberg Terminal.
LEARN MORE