Starbucks Just Sold $1.4 Billion in Gift Cards. What Did It Do With That Cash?
By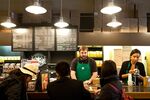 Starbucks is slowly adding a shot of banking to its grande coffee empire. As customers pour money into its gift cards and its mobile-payment app, the Seattle-based company is booking a tidy profit simply by holding onto customers' cash.
Starbucks reported yesterday that its customers added $1.4 billion to its payment platforms in the past quarter, a figure no doubt boosted by a brisk trade in gift cards given as stocking stuffers last month.
Even to a company the size of Starbucks, that sum is impressive—it represents one-third of total sales in the period. Of course, Starbucks can't recognize that cash as revenue until it is exchanged for drinks and snacks, but that doesn't stop the company from investing it. Starbucks money managers are fond of high-grade corporate bonds, Treasury notes, and certificates of deposit that mature in three to 12 months, according to the company's SEC filings.
A Starbucks spokesman declined to detail how much has been earned in such investments recently, but at the end of September the company had $621 million sitting on its payment platforms. And the company's interest income suggests that the little side business is getting lucrative for the coffee chain. In the past four quarters, Starbucks has made $146 million on interest alone—or 8 percent of total profit. And the company has to do relatively little for those easy earnings, just buy some plastic cards and make sure the app is running smoothly.

The windfall is no accident, either. Starbucks has primed its card business at length, prominently displaying cards and offering discounts and freebies to people who download its app and join its loyalty program. And every time someone pays with a card, the company doles out reward points like an airline offering frequent-flier miles.
Indeed, some of the best businesses are built on the thin window between payment and product delivery. Banks are the most direct example, but banks generally pay interest. Starbucks doesn't have to.