business
Six Good Reasons to Wear a Helmet at Work
Karen L. Cates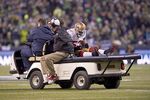 You may not have to worry about grisly knee injuries such as the one San Francisco 49er NaVorro Bowman suffered recently against Seattle in the NFL playoffs, but office games can be just as perilous to your career if you don't protect yourself from unexpected plays at work. I have a file full of antics from frustrated clients who felt blindsided by office fouls. Here's why wearing a helmet in the office might not be such a bad idea:
Clipping. Have you ever been in a meeting where you feel you've been hit from behind? A co-worker who supported your presentation in pre-meeting conferences suddenly takes a different position in front of the boss.
Delay of game. Hoping to derail a new product you're spearheading, your office rival sits on his contribution until a production deadline has passed, thus forcing everyone to revert to the old product for at least one more cycle.
Ineligible receiver downfield. Ever send a memo to a colleague's staff member requesting a simple statistic or other tidbit of information only to receive it back in your in-box with a nasty note from your colleague about following the chain of command?
Offside. This is where the boss claims your idea as her own, presenting it to others before you even realize the play has begun.
Intentional grounding. This happens at a meeting where you are trying to develop a potential "paradigm changer" in your industry, and a detractor in the corner keeps bringing up all the ways it can fail.
Unsportsmanlike conduct. If any of the tactics above don't work, there's always the office tantrum; nothing like a little yelling and screaming to bring a team to its knees.
What's a team player to do in the face of game-day histrionics? How do you take the high road when the more satisfying response involves tackling your opponent into the mud? Here are a few ideas for managing office tussles without having to call in a referee:
Recognize that not all fouls are intentional. Sometimes folks gain so much momentum pushing a project toward their own goals, that when play shifts, they have a hard time changing direction. Your job is to do more work upfront to help them see the moves before they hit the field. Be clear in outlining changes, help them imagine their place in the new order, bring them to your side, and make it easy for them to say yes.
Distinguish foul play from strategically suicidal. Many of those who take oppositional positions have limited agendas that orbit them and their immediate team. This lack of big-picture focus will sideline them in the long run. In the short term, however, you need to neutralize them. Often, no amount of explaining will help them see the larger implications. Instead build coalitions with both formal and informal power players in the organization, sharing with them your larger plans and some of the details that will help you get into the end zone. While the power players may not always be positioned to protect you on every play, the small-time thinkers are going to look bad when they keep pulling plays from a limited playbook.
Make yourself an attractive free agent. This will serve you in two ways: First, when you get honest with yourself about your professional goals, and get specific about the ways you can achieve them, you may find that the game-playing is just that. Alternately, if you conclude that the game-playing is derailing you professionally, having a clear idea of who you are and what you are capable of achieving will make you a more appealing candidate for future employment elsewhere. Reflect, update your résumé, conduct a reality check with trusted advisers, and decide. There is no downside to preparing to change teams. Sometimes the decision to stay for the right reasons can increase your satisfaction in an otherwise fractured environment.
We may not suit up in shoulder pads and mouth guards for our daily face-off in the office arena, but maybe it wouldn't hurt to wear a helmet at the next team meeting.
Before it's here, it's on the Bloomberg Terminal.
LEARN MORE