How to Pretend You're at Davos
by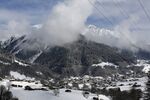 Right this minute, 2,500 attendees of the World Economic Forum are snapping their valedictory selfies in front of expensive snow-capped Alps. Congratulations, Davosians. We hope you've saved the world.
If you don't, who will? The guest list is made up of our fragile planet's most influential business, political and cultural leaders. Given the $30,000 average entry cost (plus a $55,000 membership kicker), it helps if you run a Fortune 500 company, or a country.
And then there's the rest of us. So, as Davos winds down, Loot is just gearing up for its own snowy junket right here in New York. We certainly have the snow.
What to wear
To look the part, look to your wrist, don't be late and don't get caught in a Casio. Consider Baume & Mercier's 43mm Clifton Chronograph, a big hit at the Salon International de la Haute Horlogerie trade show in Geneva this week. It's retailing at Tourneau in midtown Manhattan for $3,800 to $4,500, depending on the wristband. It would look so handsome under the $695 Chateau Parka goose down ski jacket from Switzerland's Gorsuch .
Where to drink
Spend enough time at midtown's Haven Hotel Rooftop bar this weekend and you'll forget you remembered you're pretending it's Davos. This winter, the roof has been transformed into a ski chalet, where the signature drink is not one but four shots of icy vodka served on one long wooden ski. Bring three adventurous friends or cozy up to the wait staff in faux fur hats.
Where to eat
Hike up your big-boy ski pants and get ready for Swiss cheese. A lot of it. Raclette is the ultimate fake-Davos meal, and it's melting fast in SoHo's favorite fondue chalet, Café Select . Bonus: You'll likely rub patch-stitch elbows with actual Europeans, who've come to relax with a jovial Swiss bratwurst and a warming snifter of kirsch.
What to say
It's not easy subbing for the likes of the IMF's Christine Lagarde, economist Nouriel Roubini or mock hydrologist Matt Damon. But engaging the gray matter on topics such as global wealth disparity and the Gini coefficient, the boundaries of polite spying and Shinzo Abe's economic ambitions is a must, and a gas. You know they're faking it, too, right? That should take some of the pressure off.
So send out an environmentally friendly, well-encrypted Evite, prepare your macro opinions and, by all means, arrive by private helicopter .
Now it's your turn, pseudo-intellectual snow bunnies. How else can we celebrate Davos-at-home this weekend? Tweet me at @jparker741
Before it's here, it's on the Bloomberg Terminal.
LEARN MORE