business
Where Did China's Web Traffic Really Go?
By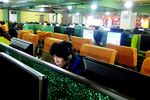 An Internet outage in China that briefly knocked most of the country offline this week has sparked a hunt for answers. The sleuthing has even led to the American heartland, generating headlines that said most of China's Web traffic ended up at a house in Cheyenne, Wyo. Were it only that simple. In five questions, we try to clear the air.
What are the basics?
For more than an hour on Jan. 21, Web traffic in China was disrupted, with much of it directed to a single Internet address that, to users, was a dead end. That address was located in the U.S., according to the official Xinhua news agency.
What does the Chinese government say happened?
The government said its preliminary findings point to a hacking attack.
What might actually have happened?
The theory getting the most traction is that Chinese censors messed up when they tried to restrict access to a website. Instead of cutting it off, they did the opposite and instead sent all the traffic to that address, overloading the system, according to GreatFire.org, which monitors China censorship.
Who's behind the address to which Chinese Web users were directed?
The Internet Protocol address to which the traffic was directed—65.49.2.178—has been registered under at least two different company names, each of which is associated with the banned Falun Gong religious sect, searches of online databases show. One is Sophidea, a company with a mailing address in Cheyenne, hence the theories about the Wyoming house. (The physical location of that IP address is another matter—it shows up as "anonymous" on searches.) Sophidea hosts Falun Gong-linked sites such as Epoch Times, according to an online listing. The other owner named in databases is Dynamic Internet Technology, whose founder is a Falun Gong member, Bloomberg News reported.
So these are all just different names linked to one Falun Gong Web address?
That appears to be the case. Dynamic Internet Technology President Bill Xia wrote in a memo published on the Epoch Times website that the Chinese traffic was directed to an IP address his company uses to run Freegate, a service that lets users access websites blocked in China. As for the confusion about who was behind the site, he wrote, "The plethora of information is a result of different level[s] of ownership of IP resources."
Before it's here, it's on the Bloomberg Terminal.
LEARN MORE