BlackBerry Seeks Court Order to Block Seacrest Typo Case
Karen Gullo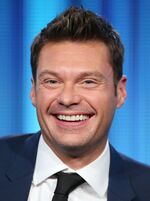 BlackBerry Ltd., the Canadian smartphone maker, asked a U.S. judge to prevent Ryan Seacrest's Typo Products LLC from shipping its new iPhone case, claiming Typo copied the design.
The $99 accessory, an external case for Apple Inc.'s iPhone 5 and iPhone 5s with an integrated keyboard, infringes BlackBerry's design and copies its inventions, the company said in a Jan. 22 filing in federal court in San Francisco. Typo has said the first batch is sold out and will be ready to ship at the end of this month.
BlackBerry sued Los Angeles-based Typo Jan. 3, alleging patent infringement. Waterloo, Ontario-based BlackBerry said it's likely to succeed in the lawsuit and will suffer "irreparable injury" if Typo is allowed to ship and continue selling the product. Apple isn't a defendant in the case.
BlackBerry has in recent years lost business to Apple and Google Inc.'s Android devices. Its share of the global smartphone market tumbled to just 1.7 percent in the third quarter from 4.1 percent a year earlier, according to IDC.
A hearing is scheduled for March 5 on BlackBerry's request for a court order blocking Typo from making, selling, offering, marketing, promoting or distributing the product.
"We respect BlackBerry and its intellectual property," Typo said in an e-mailed statement. "However, we believe that BlackBerry's claims against Typo lack merit."
Typo said Jan. 14 that it had sold all its initial inventory and that orders received before Jan. 12 will ship by the end of the month. New orders will go out at the end of February, the company said.
Seacrest, the radio and TV producer and host of "American Idol," is founder of closely held Typo, according to the company's website.
The case is BlackBerry Ltd. v. Typo Products LLC, 14-00023, U.S. District Court, Northern District of California (San Francisco).
Before it's here, it's on the Bloomberg Terminal.
LEARN MORE