Bitcoin Backed by Sberbank's Gref as Russia Plans Curbs
Lyubov Pronina and Stepan Kravchenko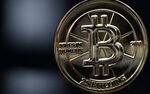 Advocates of Bitcoin gained support from OAO Sberbank chief Herman Gref, who's urging the Kremlin to stop Russian lawmakers from curbing the use of virtual currencies in a bill designed to cut funding for terrorists.
"It's a very interesting global experiment that breaks the paradigm of currency issuance," Gref said in an interview at the World Economic Forum in Davos, Switzerland. A ban would be a "colossal step backward," said Gref, who was economy minister during President Vladimir Putin's first two terms.
Gref, who's run state-run Sberbank, eastern Europe's largest lender, since 2007, said he'd sent letters to the Kremlin, central bank and Finance Ministry asking officials to intervene with parliament to avert possible restrictions. That runs counter to the views of many of his western counterparts, including JPMorgan Chase & Co. Chief Executive Officer Jamie Dimon, who told CNBC in Davos that governments will eventually get "really upset" with Bitcoin and force it to become just a payment system regulated like all others.
Speculators, Fees
Bitcoin was introduced in 2008 by a programmer, or group of programmers, known as Satoshi Nakamoto. There are 21 million possible Bitcoins that can be mined by a peer-to-peer network harnessing computers to complete complicated mathematical calculations. About 12.2 million units are currently in circulation, according to Bitcoincharts.com.
Enthusiasts say they are building a system to move money across the Internet securely and at a lower cost than existing wire transfers, bank debits or remittances -- sources of billions of dollars in fees for banks such as JPMorgan, Citigroup Inc. and Bank of America Corp.
The price of Bitcoins soared in November, topping $1,000 for the first time, as speculators anticipated broader use of digital money. The price has since dropped to about $790 on Bitstamp, one of the more active online exchanges where Bitcoins are traded for dollars and other currencies. One Bitcoin cost about $15 a year ago.
"It definitely shouldn't be banned, it must be studied and maybe regulated properly," Gref said today.
Andrei Kostin, chief executive officer of VTB Group, Russia's second-largest lender, said he's much more wary of virtual currencies.
"They're quite dangerous for the money market and therefore we have no plans to get involved," Kostin said in an interview in Davos yesterday. "Our monetary authorities are only now formulating their opinion about this."
Hiding Places
The U.S. government is still studying the Bitcoin "phenomenon" to ensure the digital currency isn't used for unlawful purposes, Treasury Secretary Jacob J. Lew said in an interview with CNBC in Davos. "It is an anonymous form of transaction and it offers places for people to hide," Lew said.
The security committee in Russia's lower house of parliament, the State Duma, approved a draft bill on Jan. 15 that seeks to curb anonymous transactions as a means to counter terrorism.
It's not clear how Russia will be able to regulate virtual currencies such as Bitcoin, though, since they don't have issuance or processing centers, according to Viktor Dostov, president of the Russian Electronic Money Association. The only "control point" is an exchange center where Bitcoins can be sold for real money, Dostov said by phone from Moscow.
'Gray Zone'
"It's a gray zone," Russian Economy Minister Alexei Ulyukayev said in an interview in Davos on Jan. 22. "We know regulators in some countries such as China and Japan are implementing restrictions. We'll monitor that carefully."
Lawmaker Shamsail Saraliev of the pro-Putin United Russia party, who co-wrote the bill, said the law would counter terrorism, the illicit drug trade and contract killings.
"The topic is very specific and many issues in the draft are new and require revisions to settle all the technical details," Saraliev said by e-mail, without elaborating. Putin's spokesman, Dmitry Peskov, declined to comment on the draft law immediately.
Putin has called for increased security across Russia as the country prepares to host the Winter Olympics next month in the Black Sea resort of Sochi. Attacks last month on a train station and bus in the southern city of Volgograd, formerly Stalingrad, killed more than 30 people.
Before it's here, it's on the Bloomberg Terminal.
LEARN MORE