business
Why Walgreens Wants to Sell You Sushi, Too
By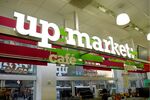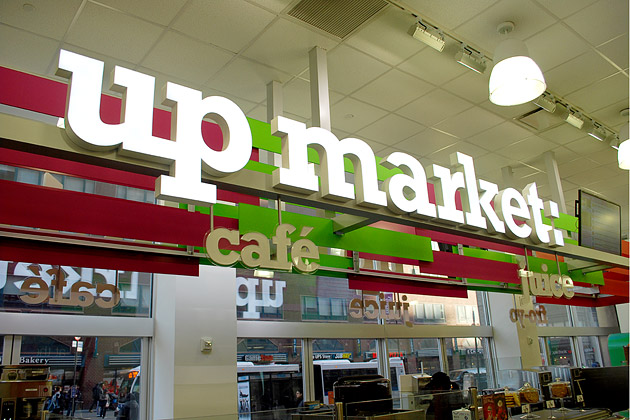 Walgreens is the nation's largest drugstore chain, with more than 8,100 stores, so you wouldn't think the reopening of a single location would merit a ribbon-cutting ceremony or a DJ. But the store in question, No. 6159 in Manhattan's Union Square, is the company's latest attempt to distinguish itself from its competitors, and so its Thursday debut received no small amount of fanfare.
The store, which is open 24 hours a day, is one of 13 Walgreens flagships around the country. They're all in big cities and serve, in part, as laboratories to test products and services that might also do well in the suburbs. "We had a fairly vanilla approach to expansion before," says Skip Bourdo, a vice president at Walgreens. "Now we have to customize our stores. Our flagships are where we experiment."
Bourdo seems most proud of the pharmacy. In the Union Square store the pharmacist sits right out on the floor to answer questions. Nearby are kiosks where customers can order prescriptions and electronic signs telling them when their prescriptions are ready. There are private rooms where shoppers can consult with health providers and get flu shots, as well as aisles of over-the-counter medicine (much of it Walgreens-branded) and a couple of shelves of yoga gear. The whole area is light and cheery. "This can be rolled out nationwide," Bourdo says.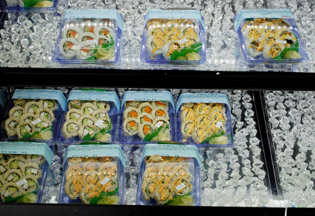 Walgreens has also learned a few tricks from Duane Reade, the chain of New York stores it bought in 2010. Duane Reade had long provided one of the city's most despised retail experiences. Then, with private equity backers and new leadership, it re-created itself as a modern and pleasant place to shop, with a more-than-decent house brand.
The Union Square Walgreens, like the Duane Reade store near Wall Street, has two sushi chefs. "Sushi is a big hit in this type of environment," Bourdo says. "But certain fresh food has to fit the neighborhood. Sushi wouldn't make sense in the suburbs." This Walgreens also has a fresh juice bar, a coffee bar, a small bakery, and self-serve frozen yogurt with toppings ($3.99 for a small cup; $4.99 for a large). Eventually there will be seating, too.
Shoppers might notice a Duane Reade just across the street. "Certain areas are busy enough for us both," says Bourdo. "We have a sushi chef and juice bar, and they don't. They have beer served in growlers; we don't. We divided it up—it was purposeful." The revamped Walgreens doesn't have a nail salon like the Wall Street Duane Reade ($10 manicures), but in the divvying up of amenities a downtown Walgreens now serves freshly chopped salads.
Before it's here, it's on the Bloomberg Terminal.
LEARN MORE