pursuits
Women's Figure Skating Has Never Been So Unpopular
The sparkly women's sport has never been so unpopular
Jessica Grose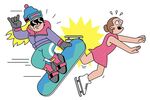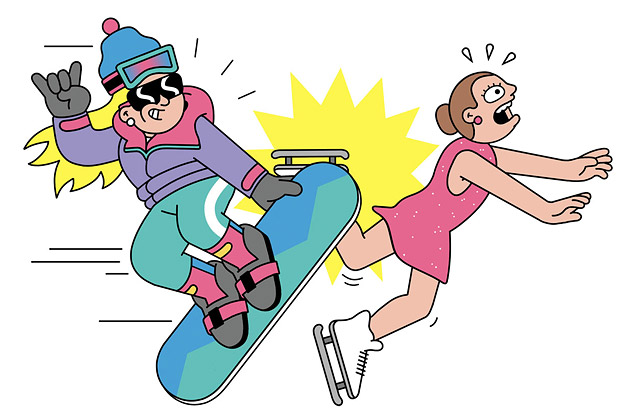 In her short program at the U.S. Figure Skating Championships on Jan. 11, Gracie Gold soared, landing a technically difficult triple lutz, triple toe-loop combination. Too bad no one was watching. The NBC broadcast garnered a low 0.7 rating among 18- to 49-year-olds, the most important group to advertisers. By comparison, Teen Mom 2, a huge hit among the young women who might also be into skating, regularly gets a 1.7 rating in that demographic.
America used to care more about figure skating. Michelle Kwan, who reached sweetheart status by medaling at the 1998 and 2002 Winter Olympics, appeared in ads for Coca-Cola and Chevrolet. As recently as 2009, she appeared on market-research firm Harris Interactive's top 10 list of America's favorite female sports stars. Figure skating's popularity peaked in 1994, when Nancy Kerrigan, who had endorsements with several major brands such as Walt Disney World and Campbell Soup, got whacked by a thug sent by Tonya Harding's ex-husband. Twenty years later, people are still talking about it: In mid-January, ESPN aired a documentary about the sordid saga, titled The Price of Gold.
But the American women headed to the 2014 Winter Games in Sochi, Russia—a trio of blondes including Gold, Ashley Wagner, and Polina Edmunds—have almost no name recognition at all. Gold and Wagner have signed with CoverGirl, and Gold also has contracts with Smucker's and Visa, but they're relatively small deals in the world of skier Lindsey Vonn, who won gold in the 2010 Olympics and can't compete in the Sochi Games because of an injury. Vonn was No. 8 in Harris Interactive's 2013 poll and is sponsored by Under Armour, Rolex, GoPro, and Red Bull, among others. Julia Mancuso, Vonn's heir apparent, has already appeared on the cover of Outside magazine and has 51,000 followers on Twitter. Wagner and Gold are in the 20,000 range, and Edmunds has a mere 3,385 followers at the time of this writing.
Shawn McBride, a senior vice president at Ketchum Sports & Entertainment, says this is partly because the "demure, pixie-type" associated with the sport has fallen out of fashion. The Harris poll also includes the Williams sisters and soccer players Hope Solo and Abby Wambach, all known more for their outspokenness, aggression, speed, and strength than their birdlike gracefulness.
"Brands are looking for personalities that are going to break through. The poise that's synonymous with figure skating" might be working against Gold and her fellow skaters in the bid for recognition, McBride says. Filip Bondy, a sports columnist for the New York Daily News who's covering figure skating at Sochi, says skaters are often highly managed by their coaches, who keep them from saying anything remotely controversial. To some extent, the U.S. Figure Skating Association doesn't "really understand that controversy is good for the sport," he says.
Also good for the sport: winning. "If you chart the popularity of figure skating, it's directly correlated to whether we have a female star," Bondy says. Gold is eloquent in a practiced kind of way, he says, and she's very pretty—so in some ways, she's a marketer's dream. But she's ranked ninth in the world right now.
She could take a cue from spunky gymnast McKayla Maroney, who gained fame when a picture of her "not impressed" face became a viral phenomenon after the medal ceremony at the 2012 Olympics. Maroney has more than 476,000 Twitter followers and is sponsored by brands such as Ralph Lauren and Adidas. Last year, she finally revealed her "impressed face." Not on the podium, but in a national ad for 7Up.
Before it's here, it's on the Bloomberg Terminal.
LEARN MORE