Why JetBlue Is Loving the Single Life
by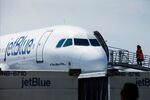 Travel up and down the eastern seaboard has been iced to a halt by all that snow. You can't help but think back to JetBlue Airways's worst day ever seven years ago, when planes full of passengers were stranded on the tarmac of New York's JFK Airport for as many as 11 claustrophobic, Terra-chip-hoarding, bathroom-stenched hours. The affair cost JetBlue $30 million and could well have killed the decade-old startup, not unlike the dozens of other discount airlines that have come and gone since the industry was deregulated in the late 1970s.
In the years after that crisis, airlines big and small grapple with spiking jet fuel prices as oil ascended to $145, and then American and United shacking up with other legacy carriers after jettisoning costs and liabilities in bankruptcy. JetBlue's founder and chief executive even had to ditch in humiliation. It should truly have been quitsville for the paragon of cheap-chic air travel. The majors themselves flaked on their once paradigm-resetting JetBlue impostors, including Song for Delta and Ted at United. JetBlue found itself among the last of the independents.
But here we are in 2014, and oil is near triple digits while the U.S. economy remains weak. The mega-airlines are throwing around their market-share weight and sprawling route maps as never before. Yet JetBlue, which just had to cancel a flock of flights, hasn't looked this hale in years. Shares have tripled since March 2009, loving life alone in an airline sector that has recaptured the ardor of investors.
"JetBlue has actually profited from the fact that fares are up and restructuring got majors out of markets like San Juan—or US Airways (essentially the rebranded America West) retrenching from Boston—where JetBlue can then swoop in and grab slots," says Roger King, an industry analyst with CreditSights. "They still offer a better leisure experience than the others: TV, leather, more legroom." King, who in 2006 predicted the major airlines' wave of mega-consolidation, lauds JetBlue for its marketing opportunism. The company is rolling out its first first-class-like offering, called Mint, by touting the "longest lie-flat beds in domestic business class and four private suites" for long-haul flights.
"Just as we revolutionized the core travel experience more than a decade ago with an elevated product and customer-focused culture, we intend to reinvent the lucrative coast-to-coast market with Mint," JetBlue Chief Executive Dave Barger remarked in September. "Mint is JetBlue's refreshing take on a premium class product. It is stylish service minus all the stuffiness often associated with the traditional front-of-the-cabin experience." The newly Minted, as it were, will be lavished with a predeparture drink followed by a cocktail and amuse-bouche once airborne, as well as fresh cappuccino and espresso churned out by the first machine expressly designed for a U.S. airline.
Such moves would have been unthinkable in JetBlue's idealistically scrappy infancy, when founder and then-CEO David Neeleman (a product of carrier-in-cheap Southwest Airlines) would himself help tug, fuel, and vacuum planes at the gate. JetBlue now charges for headsets, avails itself of all sorts of jalopy aircraft (not just its trademark shiny new Airbus A320s), and no longer limits its operations to lesser-used (and cheaper, less-congested) airports. Its beachhead at JFK is palatially appointed. Mint will showcase tapas-like lunch and dinner plates made in conjunction with Manhattan restaurant Saxon + Parole. So much for help-yourself blue potato chips and a Diet Coke.
JetBlue's $6 billion in fiscal-year revenue pales in comparison with the average $40 billion rung up by Delta-Northwest, United-Continental, and American-US Airways, all three of which have enjoyed the cost-shedding benefits of bankruptcy reorganization. But it enjoys a higher operating margin than all but Delta, and even exceeds that of Southwest, according to Bloomberg data. JetBlue shored up financial self-determination with a massive stock offering in the grim days of June 2009, as well as a $300 million desperation sale in 2007 to Lufthansa, Germany's biggest airline. During the 2009 fundraising, Fitch Ratings affirmed an Issuer Default Rating of "B-" on JetBlue, meaning "a material default risk was present, but a limited margin of safety remained."
Fast forward nearly five years, and sometimes the bachelor airline seems to be flirting. Washington's long-standing foreign ownership limits for domestic carriers prohibit Lufthansa from consolidating full control of JetBlue—at last count it owned just under 16 percent of JetBlue's outstanding shares. There are, however, ways around this. Etihad Airways, the third-biggest Gulf airline, just inked a code-share deal with JetBlue that allows it to sell tickets on 40 of the U.S. carrier's routes. The JetBlue deal will also allow the thriving Gulf airline to place its code on flights from New York to Colombia, Jamaica, and three airports in the Dominican Republic, pending U.S. and foreign regulatory approvals.
Etihad's CEO, James Hogan, said last week that he's also looking for purchases in the Americas the better to hub-and-spoke out of his Abu Dhabi hub. Dubai-based Emirates, the biggest Gulf carrier and tops on the planet by international traffic, already code-shares with JetBlue. "We're all about responsible dating," says JetBlue spokesman Morgan Johnston. "But we're not about marriage."
JetBlue jolted the airline industry with its blockbuster initial public offering in 2002. The major carriers contorted, conformed, merged, retrenched, and aggressively nickel-and-dimed customers with baggage fees and fewer pillows. None, however, were allowed to fold outright. Who could have foreseen a fraction of such turbulence 10 years ago? "And yet," says Roger King of CreditSights, "JetBlue is just fine going it alone."
Before it's here, it's on the Bloomberg Terminal.
LEARN MORE