U.S. Bancorp, Banking's Bore, Is Thriving
Sticking to basics, the regional lender outpaces its larger rivals
by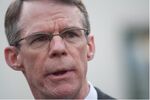 At a November panel discussion, Bank of America Chief Executive Officer Brian Moynihan was asked who he worried would steal his customers. "Richard," he said, nodding to U.S. Bancorp CEO Richard Davis, drawing laughter from the bankers and regulators in the New York ballroom. Then it was William Demchak's turn to answer. "Yeah, I'd say Richard," said Demchak, the head of PNC Financial Services Group.
Minneapolis-based U.S. Bancorp, with assets of $364 billion, hasn't posted an annual loss during Davis's seven-year tenure. With branches in 25 states, mostly in the Midwest and West, Davis has concentrated on retail customers and the trust business, managing money for corporations and governments. Eschewing investment banking, proprietary trading, and subprime mortgage lending has helped him avoid the worst of the mounting legal costs that plague larger peers. "We are still boring," says Davis. "Boring means we won't get in and out of stuff we don't know."
With regulators pressing banks to become simpler and safer, U.S. Bancorp, the nation's largest regional bank, is a model of how lenders should be run, says Tom Brown, CEO of Second Curve Capital, a hedge fund that invests in banks, where Davis serves as an unpaid adviser. Davis has "struck a balance of risk and growth that regulators want to see," he says.

U.S. Bancorp, fifth among commercial banks by deposits and assets, has outpaced its larger rivals every quarter for more than three years in return on equity, or how well it reinvests earnings, and return on assets, a gauge of how much profit a company can squeeze from its holdings. While Bank of America and Citigroup are closing or selling branches, U.S. Bancorp added 94 to its network of more than 3,000 with a Chicago acquisition in January.
Deposits have jumped 65 percent since 2008, compared with an average of 29 percent for the four largest banks, and assets rose 37 percent, compared with a 10 percent increase for the Big Four—Bank of America, Citigroup, JPMorgan Chase, and Wells Fargo. "We are steady and consistent," Davis says. "Our competitors are looking at their balance sheet, but we are focused on fees, trust, payments."
Legal expenses and claims over shoddy mortgages have cost the six biggest lenders more than $114 billion since 2007, and probes and new regulations such as the Volcker Rule have put pressure on revenue. While U.S. Bancorp has faced regulatory probes of its own, they've been relatively minor, including a dispute with Freddie Mac it settled last month for $53 million. "There's not a London Whale swimming in U.S. Bancorp's closet, and they are not going to have a huge legal reserve that is taking from dividend growth," says Matthew McCormick, a money manager at investment firm Bahl & Gaynor in Cincinnati, referring to JPMorgan's $6.2 billion loss in 2012 on derivatives bets.
"We're in a significant period of flux in the industry that is unprecedented in my lifetime," says David Ellison, who runs the Hennessey Large Cap Financial Fund. "We need more U.S. Bancorps."
Before it's here, it's on the Bloomberg Terminal.
LEARN MORE