Secret Caribbean Island Vacations
Seven Caribbean hideaways for the adventurous traveler
By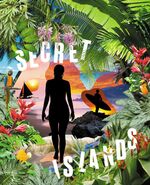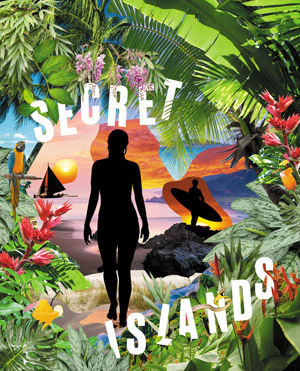 It's freezing out, you're pale, but who wants to sit on a beach with throngs of tourists? Enjoy isolated relaxation at one of these seven spots before any of your co-workers has been there.
Tree-Hop on Dominica
Dominica, floating in the Caribbean a few miles north of Martinique, is known as nature island. More than half of it is a teeming oceanic rain forest, and it's home to the eastern Caribbean's first Unesco world heritage site, Morne Trois Pitons National Park, as well as the world's second-largest hot spring, the appropriately named Boiling Lake. Hikers of all levels can try a portion of the Waitukubuli National Trail. Along the route's 14 segments—covering 115 miles bisecting the length of the island—you can see seven waterfalls and climb 56 mountain passes.
Stay Here: At luxurious Secret Bay, designed by Venezuelan architect Fruto Vivas to minimize environmental impact, six villas blend into the hillside. Guests fill out detailed surveys before they arrive so the fridge is stocked with fish, fruit, and wine of their choosing.
+767 445-4444; secretbay.dm; from $517 per unit per night, including two meals daily.
Getting There: The island's Melville Hall Airport is less than an hour on a puddle-jumper from Antigua, Barbados, St. Maarten, Guadeloupe, or Martinique.
Swim With Sharks off Isla Mujeres
Less than a half-hour by boat from party-heavy Cancún, this bohemian-leaning Mexican fishing village doesn't yet draw those crowds. While it's easy to walk the entire island in less than an hour, most people rent golf carts. From mid-May to mid-September, the waters host hundreds of migrating whale sharks. These are the world's largest fish, up to 50 feet long, but they're not dangerous. On land, explore Mayan ruins dedicated to the fertility goddess Ixchtel.
Stay Here: The sleek Hotel Secreto, nestled in a cove on the northern tip, doesn't have a sign out front. Suites offer floor-to-ceiling windows and balconies overlooking Half Moon Bay.
+52 998 877-1039; hotelsecreto.com; from $260 per night, double occupancy.
Getting There: Fly into Cancún airport and take the 20-minute Ultramar Ferry.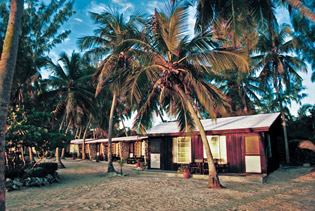 Dive Through Shipwrecks off Anegada
The high point of flat Anegada in the British Virgin Islands is 28 feet—by the time sailors from the 16th to 19th centuries realized they were approaching land, they'd already crashed into the Caribbean's third-largest continuous coral reef at Horseshoe Bay. These shipwrecks host some of the world's best diving, with stingrays and 100 species of tropical fish making their home in the skeletons of Spanish galleons and British warships. Those who like staying closer to the surface can snorkel through mazes of tunnels or hike to visit the pink birds at Flamingo Pond.
Stay Here: Heifers and goats walk on the sand at Cow Wreck Beach Resort, run by a local mother-daughter duo. The property's made up of three small, colorful cottages, plus a private beach where staff grill the island's signature spiny lobster.
+284 495-8047;cowwreckbeach.com; from $200 per night, double occupancy.
Getting There: Regular ferries from Tortola, B.V.I., and St. Thomas, in the U.S. Virgin Islands, take an hour or two. Flights from St. Thomas take 18 minutes.
Rappel Down Rocks on Cayman Brac
Grand Cayman's beaches are dotted with massive hotel chains. Little Cayman is a bit more tranquil, but Cayman Brac is wild and rugged. Ninety miles from its siblings, the island mainly attracts adventure-seeking hikers and rock climbers. Start by exploring its distinctive, dramatic limestone bluff. The craggy gray rocks running the length of the island rise to a 140-foot sheer cliff at the eastern end. Walk along the main footpath and take in eerie, lunar landscapes until you reach the lighthouse at the tip. Visitors can arrange for free, custom-designed, guided nature and culture tours by e-mailing the Cayman Island Department of Tourism (bracdc@gov.ky)
Stay Here: The peaceful, centrally located Brac Reef Beach Resort provides aquatic activities, and the beach it fronts rarely gets crowded.
800 594-0843; bracreef.com; from $145 per person per night.
Getting There: Take a half-hour flight from Grand Cayman.
Hang Ten off Isla Bastimentos
Panama's Bocos del Toro has a dense rain forest interior ringed by white sand beaches and mangrove inlets. About 25 miles from Costa Rica, the region has an average year-round temperature of 82F. Professional surfers flock to the archipelago for some of the hemisphere's best breaks at Wizard and Third beaches. In prime season (December through March), the waves in the warm, blue-green water swell to 12 feet.
Stay Here: Most of the food at the La Loma Jungle Lodge and Chocolate Farm is grown on the 23-hectare property. The chicest choice is one of the four cabins built in the tree canopy, open to the elements on three sides. Guests can help harvest ingredients such as cacao and taro root, or visit the indigenous Ngöbe community nearby.
+507 6619-5364; thejunglelodge.com; from $114 per person per night, including three meals daily.
Getting There: Fly to Panama City and connect to Bocas del Toro International Airport on Isla Colon. Take a five-minute water taxi from the center of the town to Isla Bastimentos.
Hunt Fish on Andros
Spanning 2,300 square miles, this island is the largest and most sparsely developed in the Bahamas. The entire western side is uninhabited, and much of the island is covered with shallow sandy flats that create channels perfect for bonefishing; you'll rarely cross paths with another group out on the wetlands. Andros alsohas the highest concentration of blue holes—underwater sinkholes that form vertical caves—in the world, ideal for divers who want to get close to the cavefish and strange-looking invertebrates native to the area.
Stay Here: Small Hope Bay Lodge, the Caribbean's oldest family-run dive resort, is charmingly no-frills, but the rate includes food and drinks, use of gear for kayaking and snorkeling, swimming lessons, and free calls to the U.S. and Canada.
800 223-6961; smallhope.com; from $260 per person per night, all inclusive.
Getting There: A 10-minute flight departs from Nassau at 6:30 a.m. and 3:30 p.m. every day. Private hour-long air charters can also be arranged from Fort Lauderdale.

Sunbathe Stylishly on Terre-de-Haut
This cosmopolitan option in French Guadeloupe has been compared to St. Barths in the 1970s: barefoot and safe, before the crowds and Real Housewives arrived. Just about 6 miles from Guadeloupe, Terre-de-Haut's 2 square miles were settled by Norman and Breton colonists—many locals have blond or red hair—and it still retains a French Creole flair. The most pristine beach is Pain de Sucre, named after a mountain overlooking the sea that resembles Rio de Janeiro's Sugar Loaf in miniature. Don't bother renting une auto: The best way to travel is by scooter.
Stay Here: The former mayor's villa, converted into Auberge les Petits Saints, has 12 rooms decorated with canopy beds, antiques, and objets d'art for sale.
+590 99-50-99; petitssaints.com; from $206 per night, double occupancy.
Getting There: Fly into Guadeloupe and take a 50-minute ferry from Basse-Terre.