Roubini Says Risk of a Euro Breakup Has Receded
Stefan Riecher and Tom Keene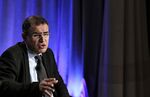 The improving euro-area economy means the chance a country will leave the currency bloc has receded, New York University Professor Nouriel Roubini said.
"The worst of the crisis is behind us in terms of financial risks," Roubini, the co-founder of Roubini Global Economics LLC, said in an interview with Bloomberg Television today in Davos, Switzerland. "Some of the tail risks of the last few years have a lower probability," he said, adding that this includes the "risk of a euro breakup."
Roubini said as recently as October 2012 that Greece would probably depart the common currency as a sovereign debt crisis fueled speculation the euro area would fracture. Those comments came after European Central Bank President Mario Draghi said in July 2012 that he'd do whatever is needed to save the euro, following up six weeks later with an unlimited bond-buying plan.
While the region's nascent recovery has helped the global economy leave the worst behind, the revival is still on shaky ground, Roubini said today.
"Inflation is going to be low and central banks are going to be accommodative," he said. "I don't think that growth in the advanced economies is going to be above potential. It will be better than the last few years but still fairly at potential."
Roubini said he can envisage U.S. economic growth of 2.5 percent, while he's "not in the camp of those who believe in economic growth of 3.5 percent or more."
The International Monetary Fund forecasts growth for the U.S. of 2.8 percent in 2014, compared with 1 percent for the 18-nation euro area and 3.7 percent for the global economy.
Before it's here, it's on the Bloomberg Terminal.
LEARN MORE